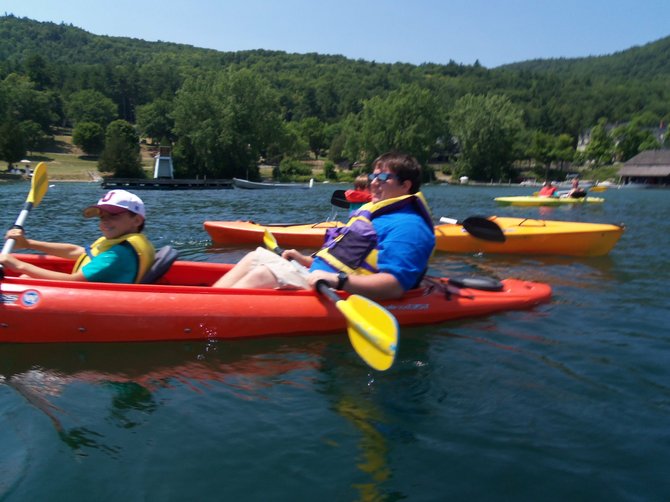 continued — On Wednesday July 31 from 9:30 a.m. to 11:30 a.m., the recreation department is offering a horseback riding adventure at Saddle Up Stables in Diamond Point at a cost of $37. Again, see the town website for details.
This Adventure Wednesdays series continues on Aug. 7 with a visit to the Ashville Game Farm. This excursion, from 9 a.m. to 2 p.m., will allow children to get close to a variety of animals, including monkeys, peacocks wild cats and farm animals.
Also, tennis lessons are offered in Rogers Park, and swimming lessons are administered in Veterans Park — both with sessions for varied experience levels, free of charge.
Adult and youth arts and craft sessions are held weekdays, at no charge and no registration required. The youth sessions start mid-morning, and the adult sessions are held in the evenings. Card-making classes are held each Thursday evening at a nominal fee.
Various exercise classes are held — primarily for adults — focusing on Pilates, cardio-fitness, chair yoga and paddle-boarding.
The youth camps include soccer camps from July 29 through Aug. 2 for various ages; and a youth dance camp from Aug. 5 through Aug. 9 for two age levels.
A theater camp is to be held from 9 a.m. to noon Monday July 22 through Friday July 26 at the Bolton Town Hall.
The drama camp involves developing an original stage play including plot, script, staging, scenery, and costumes. This play is performed for the public — accompanied by a youth talent show — at 6:30 p.m. July 25 in Rogers Park.
Other special events to be presented in Rogers Park include a performance at 8 p.m. July 18 by the Mettawee River Theatre Co. which has been featured in Bolton during summers for decades. This acclaimed group offers imaginative shows with an array of giant figures, puppets and masks. Their Thursday July 18 show portrays the story of Taliesin, a Medieval Welsh tale of sorcery and court intrigue.
Vote on this Story by clicking on the Icon