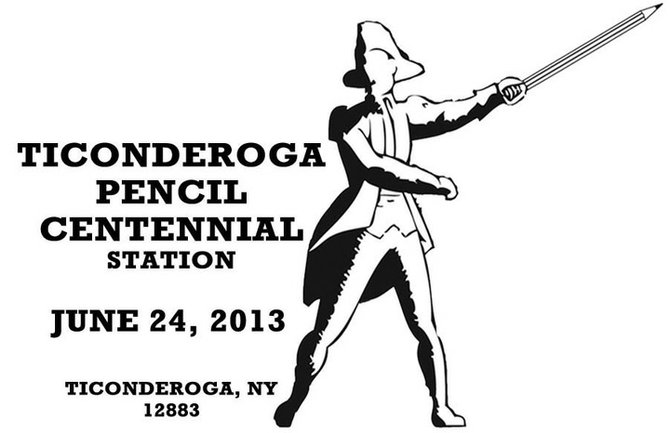 continued — Despite's name, the pencils were never manufactured in Ticonderoga.
The Dixon Ticonderoga Company is today headquartered in Heathrow, Fla., and now makes several brands of pencils, although the Ticonderoga — a yellow no. 2 pencil — is still its most popular. Dixon Ticonderoga pencils are no longer made in America.
Burdick hopes the centennial anniversary of the Dixon Ticonderoga pencil will draw attention to the Ticonderoga Stamp Club and the Ticonderoga Heritage Museum.
"The stamp club is a lot of fun," Burdick said. "I started it several years ago and we've gradually picked up people from all over the area."
The club meets for lunch the fourth Wednesday of each month at Emerald's Restaurant in Ticonderoga.
The Ticonderoga Heritage Museum is located in downtown Ticonderoga on the edge of Bicentennial Park. Commonly called the "1888 Building" the museum is housed in the only remaining structure of the old Ticonderoga Pulp and Paper mill that once sprawled across most of the lower section of the town.
Today the museum hosts an Adirondack gift shop and displays exhibits on the 200-year history of industries that built the town. It is open 10 a.m. to 4 p.m. through Columbus Day. The museum is handicapped accessible. For more information call 585-2696.
The 1888 Building is an exhibit in itself. It was once headquarters to the International Paper Co. mill that operated along the adjacent LaChute River. When IP moved its mill a few miles north of the hamlet, the building was given to the town. The museum board leases the building. In the past few years the building has received a $100,000 facelift and there are ongoing plans for further improvements.

Vote on this Story by clicking on the Icon