Ticonderoga — The Ticonderoga Alumni Association will honor a veteran and an educator/community leader during its ninth annual awards ceremony.
Lt. Col. (Ret.) Peter Charboneau of Costa Mesa, Calif., and Anne B. McDonald of Ticonderoga will be presented with Distinguished Alumni Awards.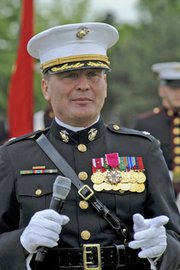 The event will be held Friday, July 26, at the Best Western Inn. A hors d'oeuvres reception will be held at 5 p.m. followed by the awards ceremony at 6 p.m.

Special Service Awards will also be given to June Curtis and Sue Liddell for their service to the community.

The association's newest award, the Friend of Ticonderoga High School Award, will be given to Ticonderoga High School English teacher Deborah Breitenbach of Silver Bay. The award honors non-alumni who have made significant contributions to the Ticonderoga school community.

The public, friends,and family of the awardees are encouraged to attend.
Charboneau, a Ticonderoga native, retired in 2011 after 30 years in the Marine Corps — starting as a private and working his way up the ranks to become one of the corps' most honored members, a "mustang."
The century-old term "mustang" identifies enlisted men who worked their way up the ranks to officer status. Fewer than 5 percent of enlisted Marines become officers; fewer than 1 percent reach the rank of lieutenant colonel.
Charboneau was a standout athlete at Ticonderoga High School, graduating in 1980.
During his career Charboneau has earned bachelor's and master's degrees along with a slew of medals and commendations — including the Legion of Merit.
The Legion of Merit was established by Act of Congress in 1942 and is awarded to members of the Armed Forces of the United States for exceptionally outstanding conduct in the performance of meritorious service to the United States.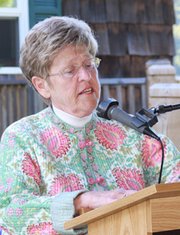 McDonald is a retired Ticonderoga Central School teacher who has served on a myriad of boards, committees and other community service projects. She is now a member of the Fort Ticonderoga board of trustees.
(Continued on Next Page)
Prev Next
Vote on this Story by clicking on the Icon