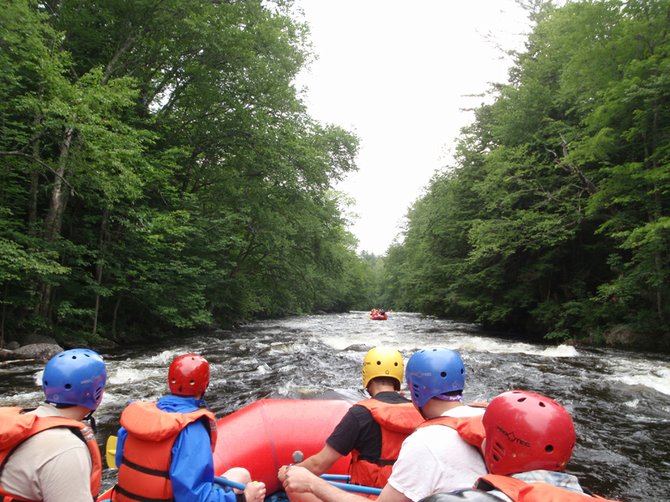 Indian Lake — Indian Lake Town Supervisor Brian Wells announced during the July 8 Town Board meeting that a New York Daily News article published that day was devoted to the fact that New York City Mayor Michael Bloomberg will be taking part in the Adirondack Challenge, racing against Gov. Andrew Cuomo in a whitewater raft.

Bloomberg and Cuomo are expected to be competing with six-member teams here Monday, July 22, a day after the Governor's Invitational Whitewater Race on the Indian River for the governor and other elected officials and invited guests, according to officials in the governor's press office. And the Daily News story, written by Kenneth Lovett, states that the race between the governor and the mayor will take place on Indian Lake. However, press office officials said July 11 this was a reporting error and the two teams will be racing whitewater rafts on the Indian River, not flatwater. (Read the extended story.)
On the morning of July 21, there will be a nearly 15-mile Flatwater Challenge Canoe Race on Indian Lake and a festival with food and music at the town's Byron Park. That would include an awards ceremony hosted by the governor.
The Adirondack Challenge is designed to highlight the Adirondack Park as a tourism region.
Board members July 8 also passed a resolution to close part of Chain Lakes Road from July 20 to 22. The closure is for protection and special security measures that need to be met surrounding the nature of the event and that of the participants. Law enforcement agents will determine the specific closure site. Wells said whitewater rafting businesses will still be able to access to the river on the road. Whitewater businesses launch their rafts on the Indian River on their way to the Hudson River.
In other business, Blue Mountain Lake Association President John Collins followed up his written thank-you note with a personal acknowledgement of the fine work done by the town's Parks and Recreation team helping the Woodson Company's staff and local volunteers in installing the town's new playground. He also thanked the board for the rehabilitated tennis court. Collins closed by inviting Town Board members to visit Blue Mountain Lake and inspect the work and encouraged residents and visitors to bring the "kiddies" to enjoy the new facilities.
(Continued on Next Page)
Prev Next
Vote on this Story by clicking on the Icon