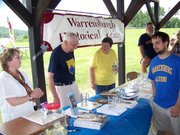 continued — With the cakes held aloft at the Recreation field stage, the crowd sang Happy Birthday to the town, after which slices were handed out to the public.
Community groups and enterprises with displays at the recreation field pavilion included the American Legion offering patriotic mementos, a display by the Welcome Buddies 4-H group, and booths of several local businesses. Enzo Optics, a local optical laboratory and manufacturer, was represented, with firm principals Jayson Hopper and Scott Joseph offering sunglasses for a mere $1.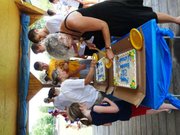 J. Gallup Farms sold homemade pies and other baked goods. Local girl scouts Angie Miller, Alyssa Birkholz, Jordan Santisteban, Heather Wood and Zoe Morgan entertained children with face painting, and other scouts made fresh lemonade on site.
The Warrensburg Historical Society hosted an extensive display of photos and materials from the Warrensburgh Museum of Local History's ongoing bicentennial exhibit, while the Adirondack Recorder Band played Baroque tunes nearby.
On the recreation field, Del Chambers of the Society conducted croquet games, and activities were offered for children. Free rides in an oxcart pulled by a team of mules were provided by Todd and Flo Olden.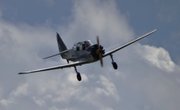 The event included a dramatic fly-over by two warplanes: John Alexander of Warrensburg piloted a PT-23 Fairchild, and Don Latterell of Queensbury was behind the throttle of a PT-17 Stearman biplane. The stunt prompted cheers from the crowd.
The event was well-attended and deemed such a success that organizers have since fielded requests to hold the event annually, event coordinator Donna Combs said.
"We're happy so many people turned out to celebrate the town's 200th birthday," she said, noting that organizing it required many hours of work over a year's time or more.
Town historian Sandi Parisi agreed.
"I'm thrilled with the participation, and hope that a group of people will undertake organizing this July 4th celebration and keep it going for years to come," she said.
Vote on this Story by clicking on the Icon