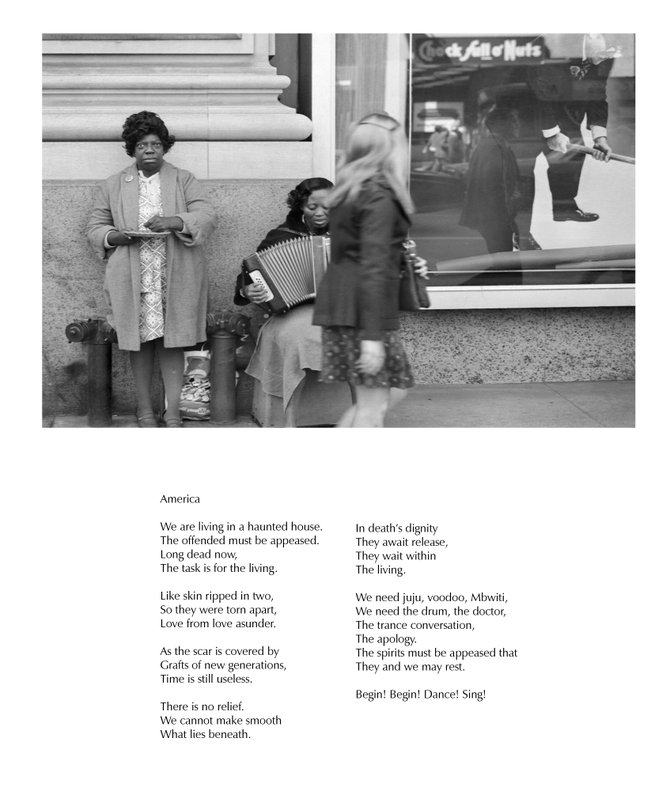 continued — The pair have been friends for more than 40 years, Lobdell said.
"We appreciate each others work and we are very happy our work is being shown," Tucker said.
Tucker called the alliance "serendipitous" and said together their work took on a more powerful meaning.
"Barry has pictures documenting our lives and my family, and I have a couple hundred poems but I didn't know how to present them to the world," Tucker said.
He said he saw an inherent compatibility between his work and Lobdell's and hoped to merge their work into a book.
"We're much closer to having the book finished, that's the next step but for now we have the show," Tucker said.
Lobdell is a photographer who lives in Saranac Lake. He is a member of the Adirondack Artists Guild, where his photographs are regularly on display. He has won many awards for his work in competitions throughout the North Country and has also exhibited widely in the eastern United States.
Tucker is the Director of Education at The Charlton School, a Residential Treatment Center for adolescent girls near Saratoga Springs. His career has solely focused on human differences. He said he started his writing career late. Finding the task of writing a novel artistically overwhelming, he found his escape from human sadnesses and faults in poetry.
"I had no use for poetry until I discovered I could fold big thoughts into small packages, like origami," Tucker said.

Lobdell and Tucker said they hope people can come to the show and experience the artwork and find their own meaning, and not just look upon the meaning they set out to portray.
"When people come to the show it is most important they find the meaning in themselves," Lobdell said.
"Come, let it effect you and let us know in the guest book how it made you feel," Tucker said. "Our work is about you now, Barry and I have done what we can, hopefully people can come away from our show with something they didn't have before."
For more information about the artists visit their website at www.barrylobdell.com.
Vote on this Story by clicking on the Icon