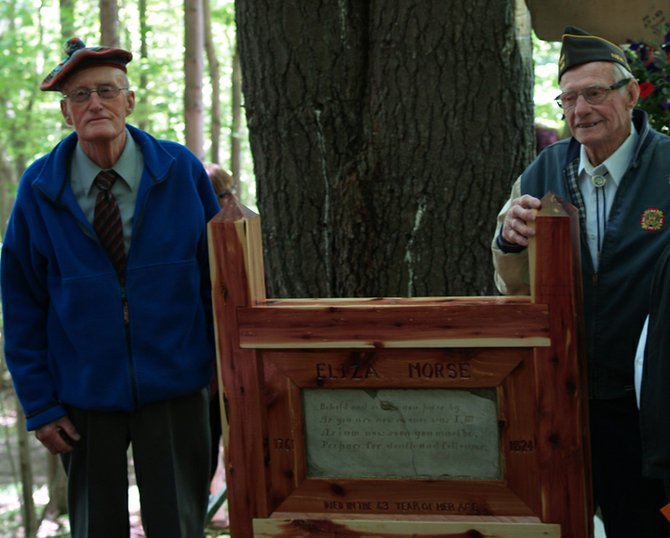 continued — Also attending were Irene Putnam, Leslie Midgley, John McDonald, Nancy Tierney, Deacon Elliott Shaw, Mr. and Mrs. Ray Thatcher, Mr. & Mrs. Terry Smith and several neighbors and interested residents and guests.
"A military prayer was delivered by Chaplin Sanders and a trumpet rendition of Taps was performed by the American Legion," Dolback said. "A discussion on the restoration of the cemetery was provided by Mr. Powvorznik. Thanks were offered to Keith Dolbeck for the construction of the replacement gravestone and to Nye Quesnel and Gerry Gendron who helped erect it. Keith Dolbeck provided a brief history of the cemetery and also offered a special thanks to Albert Powvorznik for his relentless dedication to the overall project."
The town historian said another program will be held at the Isaac Morse Cemetery this Veterans Day. That ceremony, like one Memorial Day, will help highlight the 250th anniversary of the settlement of Ticonderoga, which will be observed in 2014. Dolback is co-chairman of the Ticonderoga 250th anniversary committee.
"As we approach our 250th Town of Ticonderoga Settlement Anniversary (1764-2014) we are striving to bring forth awareness of the town's historical past," he said.
People who are interested in visiting the Isaac More Cemetery can do so. The land owners have agreed to allow visitors. Anyone wishing the burial site can contact Powvorznik at 585-7196 for directions to the trial leading to the cemetery.
Vote on this Story by clicking on the Icon
More like this story