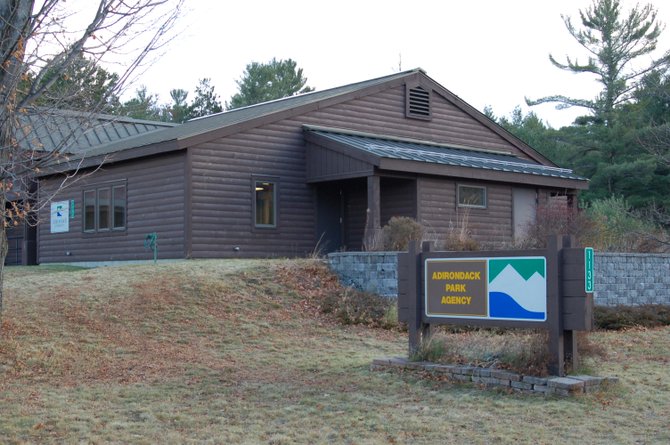 continued — "It's changed," Mylott said. "It's suburbanized. So if suburbia can expand, why can't wilderness expand? Let them revert. Let them go back. Can't we not do that? I would really love to see that."
The state should give wilderness equal play to development, she asserted.

"I may never paddle through the Essex Chain," Mylott said. "And it doesn't matter, because it's not about me and it's not about my access or my friends' access. It's not about your access."
It's not even about the governor's access.
"Wilderness is not beholden to us. It owes us nothing," Mylott said. "It doesn't owe the recreation. It doesn't owe the economic opportunity. And it doesn't even owe the experience of solitude. It's doesn't owe me that. It was here before me, before us, and it will remain after us. So adding wilderness to the Park to ensure its continued existence or a better existence or a better chance in its future I think is a good thing. And it balances some of the other impact that we're making within our own state."
Jessica Nicoll has lived in Brooklyn since 1981 and has shared a part-time home in Indian Lake since 1989. Her first childhood family trips to the Adirondack Park were spent in 1965 island camping on Lake George. She supports Wilderness option 1A and tried to debunk the assertions of Wild Forest proponents that motorized access will lead to a worthwhile economic benefit to the Adirondacks and that denying access will limit growth.
"Since 1989, I have paid taxes in the Adirondacks, employed local plumbers, workers, carpenters, work crews and foresters, contributed to cultural organizations, supported local businesses buying groceries, hardware, clothing, outdoor equipment, farm tools and two sailboats and have hosted countless guests who have discovered the unique beauty of the Adirondacks and also spread their dollars throughout the Park," Nicoll said. "I realize, like Bill McKibben, that what we think of as wilderness is not a pristine ecosystem, untouched by human hands. I see that every day as I sit on my deck overlooking the Siamese Ponds Wilderness."
Vote on this Story by clicking on the Icon