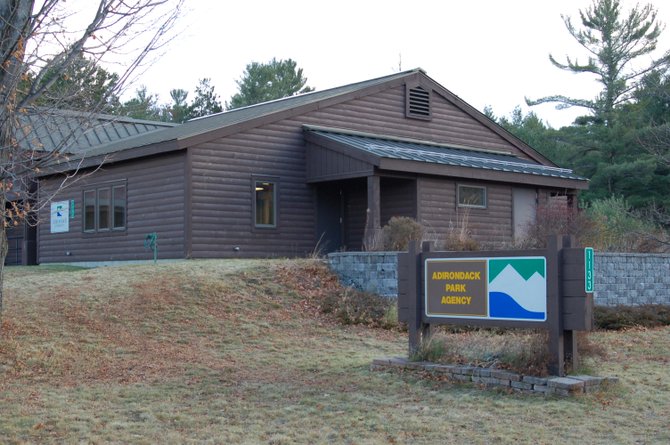 Elizabethtown — Adirondack Park Agency (APA) staffers July 2 wrapped up their final state land classification public hearings for the former Finch, Pruyn paper company lands in the towns of Minerva, Indian Lake and Newcomb. And public comments will be accepted until July 19.
The public hearing the evening of July 2 at the Warren County Board of Supervisors Room in Queensbury was the last of eight the APA held around the state. Earlier in the day, there was one hearing at the Department of Environmental Conservation headquarters in Albany. Other sites included the APA headquarters in Ray Brook, Newcomb, Minerva, Indian Lake, Rochester and New York City.
APA Counsel Jim Townsend served as the public hearing officer June 19 at the Downtown Conference Center at Pace University in Manhattan. The hearing included public comments from some Adirondack green groups and Big Apple residents who own second homes in the Adirondack Park. Many who testified favored a Wilderness classification for the new state land, leaning toward non-motorized access to places such as the Essex Chain Lakes.
"My principle interest here is ensuring that the motorless characteristics are maintained on the lakes," said Robert Gillis, a property owner in the town of Johnsburg.
Gillis said his introduction to the Adirondacks began as a Boy Scout at the Massaweepie Boy Scout Camp near Tupper Lake. He has lived in New Haven, Ct. for more than 40 years but spends as much time as possible at his Adirondack camp.
"Either a 1A or a 1B option would be a most appropriate choice," Gillis said. "After hearing the presentation by Walt (Linck), I could be favorably inclined toward 3A or 3B as well."
The areas in question, which New York state recently purchased, are the Essex Chain Lakes (17,320 acres), the Indian River (925 acres), OK Slip Falls (2,780 acres), and Open Space Conservancy Tract (160 acres). The surrounding areas of the Vanderwhacker Mountain Wild Forest, Blue Mountain Wild Forest, and Hudson Gorge Primitive Area are also up for reclassification.
(Continued on Next Page)
Prev Next
Vote on this Story by clicking on the Icon