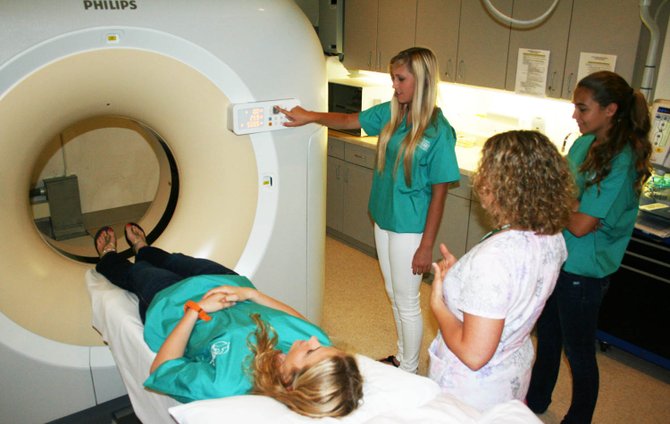 Elizabethtown — Elizabethtown Community Hospital partnered with Hudson Mohawk Area Health Education Center (AHEC) Thursday, June 27, and Friday, June 28, to host area students in their annual MedQuest Camp, also called MASH (Medical Academy of Science and Health) Camp, last week.
Six students, ranging from the ages 14 to 17 from Moriah, Willsboro and North Hudson, took part in this two-day presentation, tour and first-hand experiences to learn what to expect in the many areas of health care careers.
"Students can be surprised by what they learn," Julie Tromblee, RN, and Director of Patient Services at Elizabethtown Community Hospital, said. "The program introduces students to healthcare careers by offering practical insight – these students are witness to what's happening in the hospital. Often, that gives a very different perspective than what they might imagine."
Hudson Valley AHEC, located in Queensbury, partners with many area health facilities dispersed throughout 10 counties, from Albany to Essex, to educate and guide high school students whose prospects involve health careers. AHEC provides programs beyond MedQuest Camp which include job shadowing, scholarships, and the New Visions program.
"AHEC helps shape the future view. It helps students see the job from the other side and gives insight to things that students might not have known," Matt Baker, representative of Hudson Valley AHEC and educator, said. "And, at ECH, the professionals are outstanding here."
Students rotated through the different departments of the hospital—pharmacy, radiology, nursing, physical therapy, the lab and the emergency room—to "shadow" hospital staff who took time to explain exactly what they do as part of their jobs.
"ECH staff loves interacting with students and answering questions in regard to their career choice," Jane Hooper, Director of Community Relations at ECH, said. "Many staff members comment about the professional benefit that it also provides. Even a seasoned professional must really change his or her perspective and reassess their task at hand when they are also working to explain it to someone; they end up looking at the specific, tactical aspects of their jobs differently and through a fresh perspective."  
(Continued on Next Page)
Prev Next
Vote on this Story by clicking on the Icon