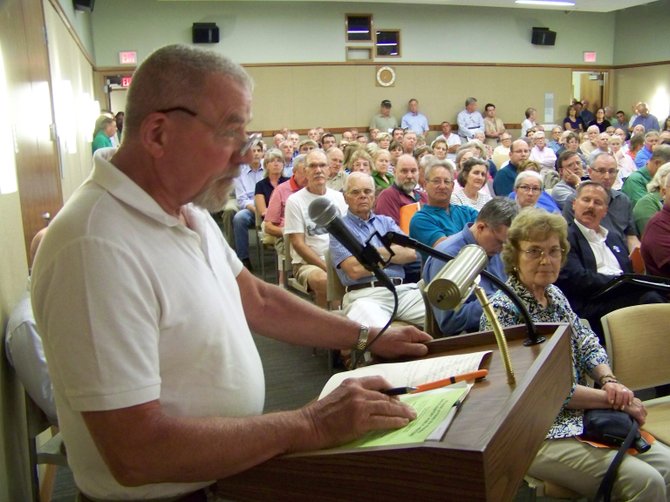 continued — "The county has been making too many bad decisions that the taxpayers have to pay for," she said. "We have to make sure projects make economic sense."
But past county Economic Development Corp. chairman John Michaels said the runway extension was indeed reasonable. He said that many well-heeled people who routinely flew into the county airport made considerable investments in the area, and that many of them chose to live here because of the airport's proximity.
After the meeting, facilities committee chairman Dan Girard said "mob psychology" had been in play.
"This was a matter of politics and electioneering," he said.
The meeting ended when the library was closed for the night, prompting outcries from the crowd. Although Queensbury supervisor Bill Mason had suggested a follow-up committee meeting to hear more comment, Girard said later that any such meeting should be town-sponsored.
"We heard a lot of statements and accusations, and I respect the fact they disagree," he said, noting that the full Board of Supervisors had thoroughly examined the issues and had twice voted 19-1 to approve the airport expansion. "But this is not about being bullied, it's about making good decisions and moving forward with the airport, and that's what I'm trying to do."
Vote on this Story by clicking on the Icon