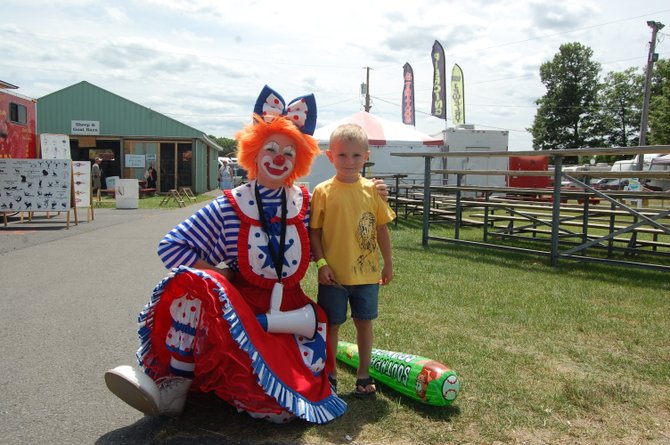 continued — "For the past few years, members of the Relay for Life volunteer to maintain all of the fairgrounds bathrooms, keeping them clean behind the scenes for everyone," said Gillespie. "In return, we donate money every year to put toward cancer research."
Some of the major highlights of the fair are the children's activities.
"Kids have such a good time at the fair, and it's all about making memories for them and teaching them about agriculture," said Gillespie.
There will be something new every day, with daily activities for people to enjoy all week.
Daily shows will include:
•Animal Alley Productions with show times: Tuesday through Friday at 1:30, 3:30 and 6:30 p.m.; Saturday at 3:30, 6:30 and 8:45 p.m. and Sunday at noon, 3 and 5 p.m.
•Buffalo Barfield & Unherd of Entertainment with show times from Tuesday through Saturday at 2, 5 and 7 p.m. and Sunday at noon, 4 and 6 p.m.
•Pipsqueak's Party Time Crew with free balloons, full face painting and more will perform Tuesday through Sunday at 2, 4 and 7 p.m.

•Mark Tyoe, aka Master of the chain saw, will hold shows from Tuesday through Saturday at 1, 4 and 7:30 p.m.; Sunday from 11 a.m. to 2 p.m. Sunday at 4 p.m. there will be an auction of all items made during week.
•Master Hypnotist Michael Blaine will perform on Tuesday and Wednesday at 7:30 p.m.; Thursday and Friday at 7 p.m.; Saturday at 4 and 9 p.m.; and Sunday at 11 a.m. and 6 p.m.

•FFA, Cattle, Horse, Sheep, Goats & 4-H Exhibits Open Daily, vendor buildings will be open daily from 10 a.m. to 10 a.m. and Domestic and Fine Arts Exhibits will be open daily.

New this year will be Adirondack Coast Wine Tasting from our local wineries; along with maple syrup, cheese and vegetables. The tasting room will be open daily from 2 to 10 p.m.
"Here we are going to have a place where people can taste all local products and meet local crafters and artisans in their trade. That is what the fair has always been about," said Gillespie.
General admission is $4 on opening day and $8 a day for the rest of the week. Week-long season passes are available before July 15 for $30. Seniors get in free on Friday.
For full list of show times and prices, go to www.clintoncountyfair.com or call the fair office at 561-7998.
Vote on this Story by clicking on the Icon