continued — Over the last two years or so, a community group led by veterans had raised tens of thousands of dollars and coordinated a project to establish a the memorial plaza in front of the town hall.
The plaza consists of six-feet-tall memorials honoring the men and women from the town of Chester who served their nation from the Revolutionary War to the recent conflicts in Iraq and Afghanistan.The granite monuments are engraved with 1,100-plus names and flanked with six flags representing the various military forces.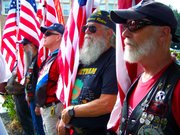 New this year are four granite benches and 135 veterans' names added to the monuments. The new names include Jeremiah Monroe of Brant Lake who sacrificed his life in Afghanistan and Ennis J.Geraghty of Chestertown who was killed in action during World War II.
Donors, volunteers thanked
Veteran and Word of Life founder Harry Bollback, chairman of the monument development committee, thanked dozens of people who helped with the upgrades, including the 40-plus Home Depot employees for their many hours of labor landscaping and constructing walkways plus thanks to their corporation for contributing $11,000 in materials; to MacMillan Construction & Design and local DPW Superintendent Jason Monroe and town highway workers for their assistance, and to the Glens Falls National Bank executives, employees and customers for their donation of two granite benches.
Bank CEO Tom Murphy deferred credit to the employees and customers of the bank and Upstate Insurance for their contributions.
"We are very, very honored to be part of this ceremony," he said.
Bollback also praised members of the VFW Post 5513 and American Legion Post 964 for their work over the past several years to make the memorial plaza a reality.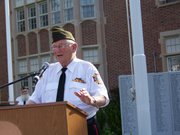 Mark Luciano, aide to U.S. Rep. Bill Owens, presented a flag flown over the U.S. Capitol to local officials — and he read a proclamation from Owens.
Vote on this Story by clicking on the Icon