CHESTERTOWN — After the patriotic music concluded, Leslie Fitzgerald of Queensbury stepped up to one of the eight monuments in the Town of Chester Veterans Memorial Plaza, which had just been re-dedicated in a ceremony July 6.
Tears welling in her eyes, she ran her fingers over her grandfather's name — William R. Tresten — engraved in stone.
"It's very emotional to see his name here, — along with all these others — and realize what they've done for our country," Fitzgerald said.
Her husband Jim Fitzgerald, a Marine who served in Desert Storm, put his hand on her shoulder.
"We're extremely proud," he said, guiding Tresten, from Chestertown, to stand in front of the monument with the couple's children for a keepsake photo. Tresten served during the Korean War.
During the hour-long ceremony beforehand, dozens of area veterans, more than 300 area citizens, community leaders and a state veterans official, gathered for the re-dedication of the Chestertown Veterans Memorial Plaza.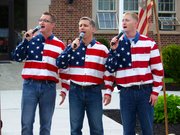 The ceremony included patriotic songs, a rifle-firing salute with Taps, dramatic readings and heartfelt prayers.
Top NYS official praises local spirit
Keynote Speaker for the event was New York State Director of Veterans Affairs Eric Hesse, a retired U.S. Army colonel.
He talked of how this year was the 150th anniversary of Gettysburg, the 40th year of an all-volunteer military, and the 10th anniversary of the beginning of combat in Iraq.
"We're here to honor our heroes, to remember their achievements, their courage and their dedication, and to say, 'Thank You' for their sacrifices," Hesse said. "We stand in the midst of patriots and the family and friends of those who have nobly served."
Hess paused, holding back emotion.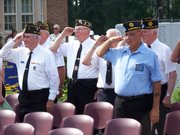 "This is what community is all about, and it makes me proud to be a veteran," he continued, talking of the ceremony and remarking how the memorial plaza project was built without taxpayer money. "Your memorial is a testament to what people can accomplish when they set their minds to it."
(Continued on Next Page)
Prev Next
Vote on this Story by clicking on the Icon