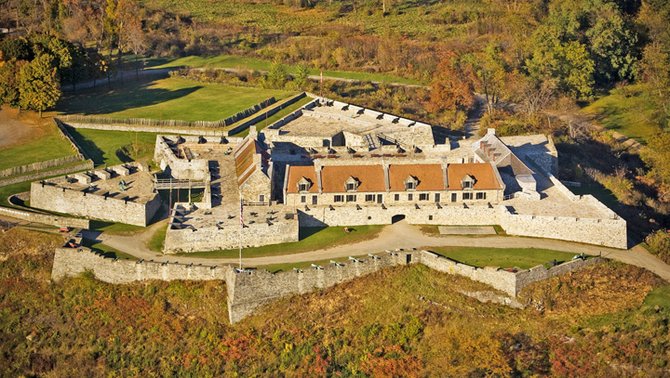 Ticonderoga — One of the most famous battles in American military history will be re-enacted at Fort Ticonderoga.
The 1758 Battle of Carillon will take place at the fort Saturday and Sunday, July 20 and 21. 9:30 a.m. to 5 p.m.
"During this dramatic event, visitors will discover how the Battle of Carillon sealed the reputation of Ticonderoga for generations to come," said Beth Hill, Fort Ticonderoga president and CEO. "The July 8 battle resulted in the greatest number of casualties in one day until the American Civil War and ,as a result, Ticonderoga became a legend in its own time."
The re-enactment will feature historians portraying French and British forces of the period as well as special programs highlighting the battle.
"In July 1758 the British army attacked the French at Carillon (Ticonderoga) attempting to capture the fort and take control of the portage between Lake George and Lake Champlain. On July 5, the largest military force ever assembled in North America embarked by bateaux down Lake George," said Stuart Lilie, Fort Ticonderoga director of interpretation. "Abercromby's army of British and Provincial soldiers landed at the north end of Lake George, after a long night packed into the fleet of bateaux. Sweeping through the LaChute valley, Brig. Gen. Lord Augustus Howe and the advanced guard encountered a lost patrol of French soldiers. In the ensuing confusing battle on July 6 Lord Howe was shot through the chest, and killed on the spot. The death of this leader, known as the darling of the army, struck a blow to British morale and tactical command."
"On the 7th of July the French at Ticonderoga constructed a half mile-long log wall protected in front by a dense tangle of treetops and sharpened branches to serve as a barrier against the British attackers," he added. "This fortification was known as the French Lines. On July 8 the British attacked. After seven hours of fighting, the British had suffered casualties of nearly 2,000 men killed and wounded. Broken and dismayed, the British retreated back to their camp at the southern end of Lake George. The retreating soldiers brought with them the story of this great battle, taking the name Ticonderoga home to taverns and newspapers in America and Britain. This fight for the Heights of Carillon at that time was the single most-bloody day in American history, and gave Fort Carillon a formidable reputation. News of this miraculous victory reached France by the fall of that year and marked France's greatest victory of the French and Indian War (1754-1763). On Oct. 1, 1758, the French army staged a reenactment of the battle, to accompany fireworks to celebrate in front of Paris city hall."
(Continued on Next Page)
Prev Next
Vote on this Story by clicking on the Icon