Summerfest will be a revitilization of memories of Hoobah fest once held at the farm in years past.
The introduction of summer will include a pot luck at 2 p.m. musical perfomances by Adrian Aardvark at 5 p.m. performance by Lucid, The Plattsburgh-based band is known for delivering a dramatic blend of everything from jazz to rock, honky-tonk blues to reggae, at 6:30 p.m. and poi fire dancing performance by Kimberly LeClaire at 9:30 p.m.
Guests are invited to camp out for the night following the festival.
There is a $10 suggested donation to participate.
SHF asks participants not to bring dogs.
For more informaion go to the Saranac Heritage Farm Facebook page.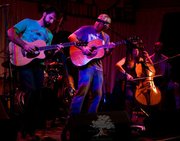 Big Slyde to perform at Smoke Signals
LAKE PLACID — Big Slyde will perform at Smoke Signals, 2489 Main Street, 8 p.m. on July 6.
At the forefront of the Adirondack based band are the voices of Hannah and John Doan. A father and daughter that sing with a natural beauty and a knack for singing harmonies like only family can.


John brings more than 30 years of acoustic artistry to the group. Whether he's playing banjo, dobro, or dojo his virtuosity rings through the strings and his experience lends a maturity to the group's songwriting. John's songs have been recorded and performed by a number of bands, including Larry Keel, Magraw Gap, and Stained Grass Window.
Band member Mikey Portal on guitar, percussion, and vocals, cellist Christina Grant, and Dustin Grant on percussion synchronize for a truly Adirondack performance.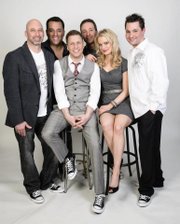 A Hot Mess comes to the Naked Turtle
PLATTSBURGH — Hot Mess will perform at the Naked Turtle, 1 Dock Street, 9:30 p.m. on July 6.
Hot Mess is a six-piece party band with roots that run deep into the Boston Music scene. Boasting drums, keyboards, guitar, bass & both male & female vocalists,
The band plays covers from Jay Z to Journey; from Guns & Roses to Lady Ga Ga, Hot Mess set list promises to keep the audience dancing.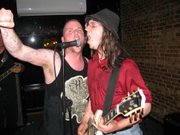 Return of the Fly comes back to Monopole
PLATTSBURGH — Return of the Fly will perform at the Monopole, 7 Protection Ave, 10 p.m. will perform on July 6.
The Misfits tribute band gets their sound from vocalist Nicholas Dubay, bass players Sam Egan, Sean G, and Franz Pope, guitar players Matt Hall, Jordan Buck, and on drums Garry Michael.
Vote on this Story by clicking on the Icon