Keene — Almost two years after the Keene Volunteer Fire Department's home was partially swept away by the raging waters of Tropical Storm Irene, firefighters officially opened their new home Saturday, June 29.
Photo Gallery
Keene firehouse opening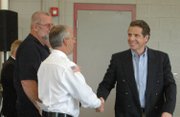 Pictures from the June 29 opening celebration of the Keene Volunteer Fire Department station.
For the fifth time since the Aug. 28 storm swept through the North Country, Gov. Andrew Cuomo returned to Keene, this time to celebrate a physical and emotional landmark occasion for firefighters and town residents.
"When I was here right after the storm, we said that we were not just going to rebuild, but we are going to build back and better than ever before," Cuomo said. "As we stand in this building, it is the physical manifestation that you accomplished exactly what you said you were going to do."
Cuomo also spoke to the resolve of the Keene community and many others who continue to rebuild in the wake of severe storms.
"Maybe we wish we did not go through the test, but we do not get to pick the tests that we have to go through in this life," he said. "Coming out better than you were, that is what Keene has done and this is an inspiration to me."
Cuomo also commended Keene Supervisor Bill Ferebee for his work immediately after the storm and getting recovery projects under way.
"When people needed a friend, a leader and someone to look up to, that was Bill Ferebee, and we all owe him a great debt of gratitude," Cuomo said.
"Today we are celebrating a milestone in our recovery from Irene," Ferebee said. "The governor and his team have gone above and beyond with $825,200 in state aid to get this firehouse built. We are grateful to him and his staff."
"(Cuomo) has taken unprecedented steps to make sure that these communities could recover," state Assemblyman Dan Stec said. "His commitment to our communities to help us out when we needed it the most is something that should be commended."
(Continued on Next Page)
Prev Next
Vote on this Story by clicking on the Icon