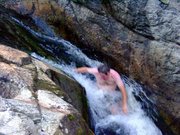 I do not believe there has ever been a place more suited to summer fun than the Adirondacks. It was always the best time to be a kid, and it remains a time that still makes kids out of all of us!
Short of the danger poised by a few bugs, and the occasional clumsy bruin, the region offers up a season that provides the finest in hiking, stargazing, fishing, swimming, canoeing, biking, camping or just plain old exploring.
It is a time when we get to stretch out our legs and expand our limits. It is where we are allowed to test our strengths, and shed our weaknesses. We overcome fears by jumping into the lake, or climbing a mountain cliff. In essence, we grow as a result of the challenges we dare to take on.
Exploring appears to be something of a bygone art, these days. It seems Google Earth has provided safe and easy travel to nearly everyplace on the planet.
There is no longer a "Dark Continent' or a Timbuktu, everyplace has been explored, mapped, conquered and tamed. The sole exception to this concept is often to be found in our own backyard.
At one time, it was considered safe for kids to explore beyond their own backyard, and to safely wander beyond the bounds of the neighborhood. It was never considered a dangerous journey!
Unfortunately, for many young boys, and girls I must add; a steady media barrage of blasting the never ending story of child abduction has served to scare the 'living be-gee-sis' out of even the most sensible parents.
However, the process of children's alienation from the natural settings did not happen all at once. It has been a gradual removal that has occurred in a series of small increments, amplified by an overzealous and pervasive media that appears hell bent on sensationalizing child abductions, Amber Alerts and the omnipresent fear of pedophiles lingering in the backyard bushes.
Joe Hackett is a guide and sportsman residing in Ray Brook. Contact him at brookside18@adelphia.net.
(Continued on Next Page)
Prev Next
Vote on this Story by clicking on the Icon