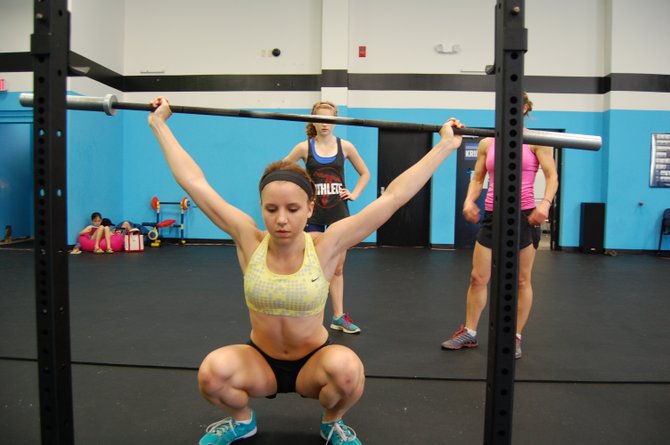 Plattsburgh — While the outside temperature was rising above 90 degrees, the inside of the North Country Crossfit (NCCF) gym had athletes pushing through the heat during their custom-designed workouts for their personal fitness goals.
Co-owner of the gym, Ben Freiberg, guided and pushed his students to tone key muscle groups using weights and other tools. The most important component to the workout, however, is the athlete, he said.
"In Crossfit your body is the most important machine and we just use the other equipment to challenge it," said Freiberg.
Freiberg and his fiancé Meg Kriff opened the gym at 130 Arizona Avenue in January. Kriff said it is a business for improving your life.
The building was once the former simulator space for the Plattsburgh Air Force base. Kriff and Freiberg rejuvenated the building with new walls, paint and supportive flooring to create a Plattsburgh home for the Crossfit movement.
"There wasn't a gym up here to work out at as far as Crossfit was concerned," said Freiberg. The pair had worked for years in the Atlanta, GA, area as gym instructors and coaches for Crossfit before coming to Plattsburgh.
"We got to the point we were ready to push out with our own business and we were deciding on a place and Plattsburgh came to mind," said Freiberg. "Meg grew up here and has family here so it was a good fit for us."
The gym located near the airport may seem out of the way for some, but Freiberg said the openness and location allow for athletes to get out of the gym and run, workout in the sunshine to keep every workout different and exciting. The lack of neighbors also allows the music and the athletes to be as loud as they want without disturbing anyone.
"This place is great for us to bring the active lifestyle out in people and we are hoping to expand our gym here," said Freiberg.
(Continued on Next Page)
Prev Next
Vote on this Story by clicking on the Icon