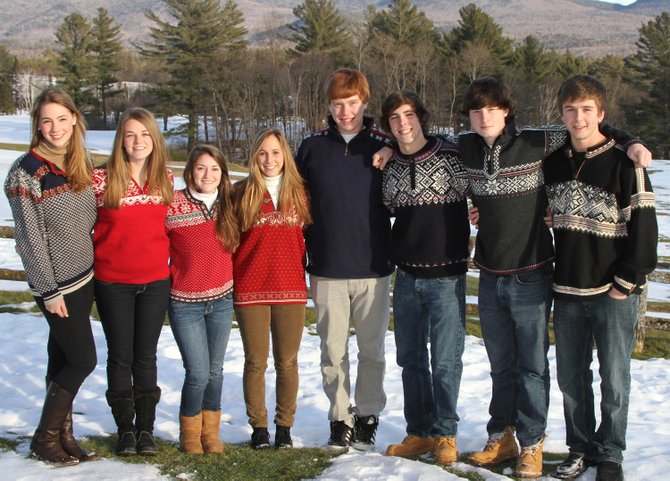 Lake Placid — The 70th Lake Placid High School Winter Carnival will take place from Thursday, Jan. 31 through Saturday, Feb. 2.
Opening Ceremonies will be at 11:30 a.m. on Jan. 31 in the LPHS Auditorium. Coronation will be at 7 p.m. on Saturday, Feb. 2, followed by the Sno-Ball Hop at 8 p.m. in the LPHS gymnasium. This year, the Winter Carnival King and Queen Coronation and Sno-Ball Hop theme is Ancient Egypt, hosted by the Class of 2016. The Lake Placid Central School Class of 2025 will provide entertainment for the Coronation proceedings.
In 1944, Mr. Romeo Proulx, Supervising Principal of Lake Placid High School, along with Bob Connelly, Doris Keane, Isabelle Warner Farrell, Gertrude Powers and Howard Page initiated the LPHS Winter Carnival with the volunteer assistance of faculty, parents and local residents.
It was complete with sculpturing, ski races, coronation and "icicle hop." Much has changed in 69 years, but students and faculty still gather together for intramural competitions among grades nine through 12 from pie eating to snow volleyball, the sing-thing (how well your class performs the LPHS Alma Mater) to broomball, the high school classes compete from noon on Thursday through 2:01 p.m. on Friday, Feb. 1. While the high school competes, the middle school students will ski, skate, toboggan and have fun in the snow at the North Elba Toboggan run on Thursday afternoon, and at Whiteface Mountain or Mount Van Hoevenberg on Friday. The Olympic Regional Development Authority and the North Elba Park District donate time and help coordinate these activities for our Middle Schoolers.

The Lake Placid/Saranac Lake Winter Carnival Alpine Ski Races will take place on Jan. 30 and Jan. 31. There will be a Slalom at Mt. Pisgah in Saranac Lake at 11 a.m. on Wednesday, and the Giant Slalom at 10 a.m. on Whiteface on Thursday. The Winter Carnival Hockey Tournament will take place the following weekend on Friday, Feb. 8, and Saturday, Feb. 9, matching the Shaker-Colonie Jets vs. the Middlebury Tigers at 6 p.m. and the Lake Placid Blue Bombers vs. the Saranac Lake Red Storm at 8 p.m. The consolation game will be played at noon on Saturday, followed by the Championship game at 2:30 p.m.
(Continued on Next Page)
Prev Next
Vote on this Story by clicking on the Icon