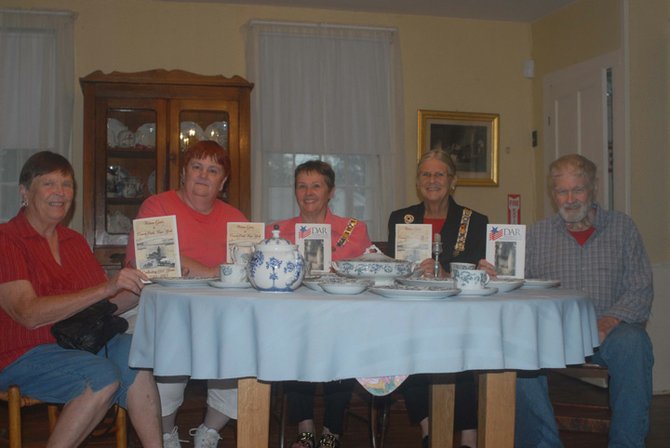 continued — Robert Spring, a Crown Point artist, contributed to the book.
"An important part of the booklet is the extraordinary artwork of Penfield Homestead Museum trustee and local artist Robert Spring," Ingleston said. "Bob was so generous with his time and talent and this historic guide would not be the same without Bob's three dozen color sketches.
"Crown Point Telephone also generously donated the use of their copyrighted map of Crown Point," she added. "A Honey Bee Fund Grant was also instrumental in the initial research phase of the project."
The first half of the guide contains photographs from the Penfield Homestead Museum archives.
"Some folks will recognize the people and places, but many younger people will get an important history lesson about Crown Point," Hunsdon said.
The second half consists of seven self-guided tours in the community — The Point, The Park, The Main Street, The Factoryville, The Gabriel and The Ironville. There is a listing of important sites and a map with Spring's sketches highlighting the location of each site.
"Another very important part of the historic guide is the inclusion of pages on the Israel Putnam Monument and Benjamin Warner and four other Soldiers of '76 who are interred in Crown Point," Gayle Gallant, NSDAR member and vice regent of the Ticonderoga Chapter, said. "The Daughters of the American Revolution has as part of its mission to preserve American history. This historic guide to Crown Point will not only preserve, but put history in people's hands."
The book also includes a section on Crown Point's role in the Civil War.
"It is hoped that the inclusion of a page on the 150th anniversary of the Civil War will encourage people to find out about their Civil War era ancestors," Ingleston said. "Penfield has lots of information on Civil War soldiers, horses, regiment, battles and, of course, the ironclad USS Monitor. Crown Point Iron Company provided the iron ore for the plating and bolts for the ship. Monitor Bay Park on Lake Champlain, the site of the town offices, is named after the famous Civil War battleship."
Vote on this Story by clicking on the Icon