Ticonderoga — The Ticonderoga area is a ton lighter this year than in 2012.
That's the pounds lost by members of the community's "weight-loss challenge" a year ago. But that's the just the beginning. Now starting its second year, the program has set a goal of 10,000 pounds lost for 2013.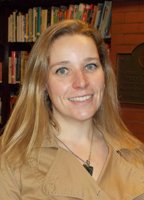 "It's been amazing to watch," said Jessica Paradis, the wellness coach who leads the program. "I'm surprised how it has taken off. People really want to be part of a successful program."
In 2012 89 people took part in the program, losing an average of 22.5 pounds each. This year 200 have registered to date.
Paradis started the challenge with a single group last year. She now directs three groups that meet in Ticonderoga weekly to discuss healthy living strategies.
"Jessica is changing lives," said Laurie Burns of Ticonderoga, a challenge participant. "She's wonderful."
Though called a "weight-loss challenge," Paradis stressed it is not solely a weight-loss program.
"It's a wellness program," Paradis explained. "I meet with each person to determine their health goals and then help them meet those goals. For most people it is about weight loss, but others want to lower there blood pressure or cholesterol. Others just want to eat healthier.
"It's about educating people and helping them develop a healthy lifestyle," she added.
Paradis, a teacher at Ticonderoga High School, knows the program works. She lost 150 pounds using it. She so believes in it, she became a coach and now runs her own "challenge."
"I didn't do well at the start, it took me some time to understand how the program works," Paradis related. "It took me two years, but it worked.
"I love to see the success others are having," she added. "It's like I'm reliving the moment. The health benefits, the before and after, are just amazing."
(Continued on Next Page)
Prev Next
Vote on this Story by clicking on the Icon