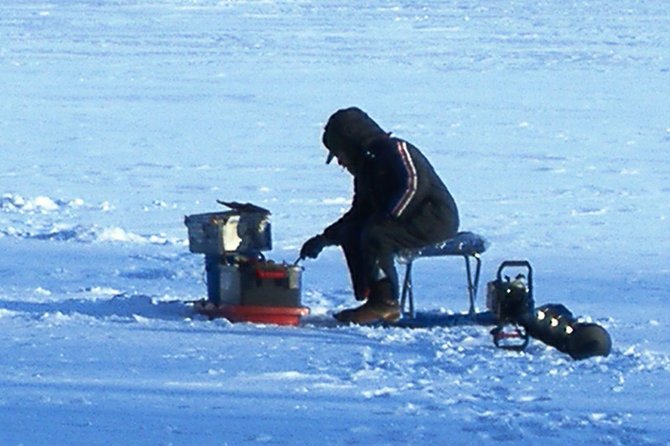 continued — Because of the large number of entries officials will not accept any lake trout or pike less than 24 inches.
Officials ask that all smaller fish be returned to the lake unless fishermen plan on eating them.
Any discrepancies and/or decisions will be decided by the committee.
All cash prizes will be awarded at the clubhouse after the 4 p.m. close of fishing on Sunday. Door prizes donated by area merchants, members and friends of the club will be drawn hourly on both days. A prize list will be posted at the club.
People who would like to donate a prize should contact the club.
Weather permitting, there will be marked vehicles on the lake to pick up fish and bring them to the club for weigh-in so that anglers do not have to leave their tip-ups or fishing area. There will be no pick-up service after 3:30 p.m. on either day.
The fish will be displayed at the club with the fisherman's name and ticket number until they are picked up.
A pasta dinner will be served at the club starting at 5 p.m. on Sunday for $10. On Sunday there will be hot dogs for $1.50, hamburgers for $2 and chili for $2. The club bar will be open Friday noon – 9 p.m. and on Saturday and Sunday at noon for members and guests.
Fishermen are urged to remember the VHS disease and DEC regulations. Anglers are allowed no more then 100 bait fish at a time. Bait must come from a shop that has certified bait or be bait caught in Schroon Lake. Bait cannot come from one lake to another in an effort to stop the spread of this disease. People must use smelt caught in Schroon Lake. People may not take any smelt off the lake at any time, which means fishermen must use what they catch the same day.
State environmental conservation and the New York State police will be present and checking licenses and registrations as well as tip-up's. People should bring all licenses and registrations.
For further information or to confirm mail-in registrations call Drew Hanchett at 532-7953.
Vote on this Story by clicking on the Icon