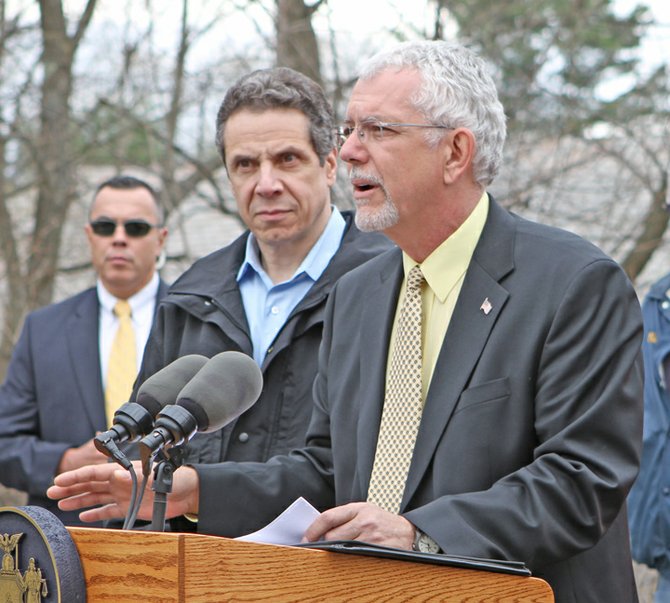 Port Henry — Gov. Andrew Cuomo is generally getting good reviews for his 2013-14 state budget proposal.
Moriah Supervisor Tom Scozzafava has concerns.
"My major concerns are the 2 percent tax cap and the mandated services we're required to provide," Scozzafava said. "I'm concerned funds designated for mandated services will be cut, which will transfer the burden of those costs to the local property tax."
Cuomo presented a $137 billion budget — $143 billion when federal aid for recovery from Superstorm Sandy is included — Jan. 22.
Spending, not including Sandy relief, is held to about a 2 percent increase without tax increases or layoffs.
That's fine with Scozzafava, but the budget also calls for a freeze of state aid money to municipalities outside New York City. That means towns like Moriah and counties like Essex will get no additional help to provide state-mandated services.
"I appreciate what the governor is trying to do, balance the state budget," Scozzafava said. "Ultimately, though, most services are provided by local governments — towns, villages, cities, counties. If we don't get additional state aid or if it's cut the increased cost of those services will be paid by local property taxpayers."
The state aid freeze could also force municipalities to exceed the state's 2 percent property tax cap, Scozzafava noted.
Acknowledging the problem, Cuomo is offering a special task force to provide advice to local officials. He also proposed a borrowing plan to help municipalities survive without further burdening taxpayers. Cuomo would allow local governments to borrow against future savings under the lower-cost pension plan the state adopted a year ago for new hires.
Local officials were concerned with lagging state aid even before Cuomo's budget speech. New York State's payments to localities — much of it for mandated health, welfare and other services — has grown by less than half the inflation rate during the last decade, according to report by State Comptroller Thomas P. DiNapoli released Jan. 16.
(Continued on Next Page)
Prev Next
Vote on this Story by clicking on the Icon