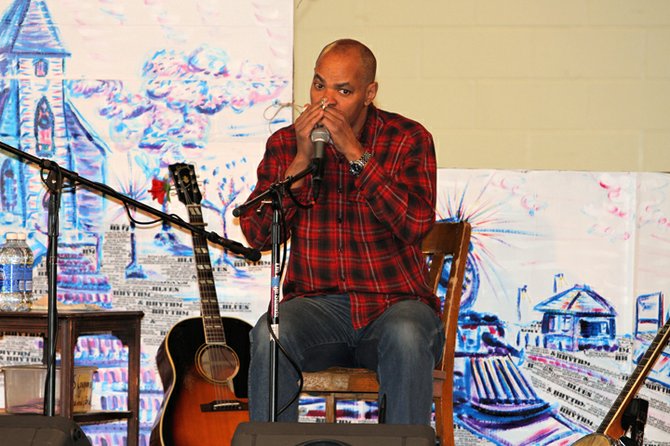 Ticonderoga — Ticonderoga Elementary School students are too young — hopefully — to have the blues, but that doesn't mean they can't learn about them.
Bluesman Guy Davis marked Martin Luther King Day with a performance at the school Jan. 22, touching on music, history and race.
"Being that Martin Luther King Jr.'s  day was the day before, I thought blues music would be a great way to connect our students to this integral part of Black history," explained Russ Cook, a Ti teacher who organized the event.
Prior to the concert students completed classroom projects.
"These two educational/musical shows taught children a little history of the blues and its relevance today," Cook said. "Guy is a fantastic performer who is keeping this distinctly American form of art alive.  Our students prepared for the show by creating a backdrop for his performance, delving into blues poetry and creating the connection between this form of music and Black history."
Davis sang songs from the Mississippi Delta, Piedmont and other areas, offering historical notes and humor between songs.
"The blues is a lot like a harmonica," Davis told students. "Nobody knows where they came from or how they started.
"The blues are over a hundred years old," he said. "The blues traveled the country like no music ever before, spreading from town to town."
Singing songs like "Dust My Broom" and "The Candy Man," Davis asked students to sing along.
Wayne Chagnon, Ti elementary music teacher, prepared for the show by giving his classes an introductory lecture on the historical foundations of the Blues.
"We started with the slave times and how the 'African American Spiritual' and 'Call and Response' songs became the catalyst for the genre itself," Chagnon said. "From the very beginning of the Blues to today the emphasis is still on hard times and experiencing a great loss. The genre itself opened the door for many Black performers to make there way in the music industry and also lent itself to the explosion of new music such as Jazz and Rock. The students also learned about Guy Davis through his website and Youtube videos."
(Continued on Next Page)
Prev Next
Vote on this Story by clicking on the Icon