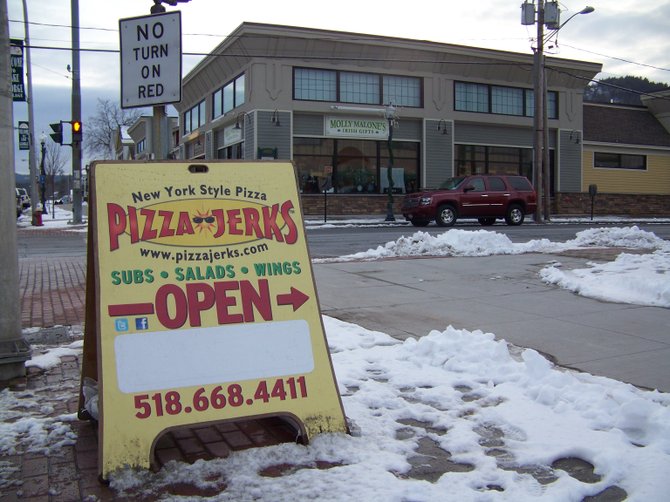 LAKE GEORGE — In an effort to assist the efforts of businesses attempting to stay open through the winter, the Lake George Village Board is considering relaxing restrictions on temporary signs.
Whether it's an A-frame sign placed on the sidewalk in front of a shop or a banner above a store's entrance, such temporary signs are important to attract customers off-season, Mayor Blais said at a monthly board meeting held Jan. 14.
"Making the sign law more business friendly is another way we can help folks struggling to stay open during winter," Blais said.
He suggested that the board amend the sign law to allow businesses to apply for one blanket permit for the winter season, without having to apply for individual permits, event after event.
Also, the village board voted to make erecting signs more affordable. They voted unanimously to charge $100 for a permanent sign permit, and to charge $50 for a temporry sign permit — the former charge for either version was $250.
In beginning the board meeting, Blais launched a new feature. He introduced several of the many former village notables, depicted on a mural on the back wall of the public meeting room of the village hall. The mural was painted by scenic artists Laurie Wilson of South Glens Falls and Marisa Muratori of Lake George.
Pointing to one figure, he noted that former Mayor Bob Caldwell, whom Blais defeated in 1971, routinely carried a Derringer pistol strapped to his ankle. He also pointed out Harry Cohan, proprietor of Cohan's Sport Sop in Lake George, who was named state Boxing Commissioner. Blais also gestured to Wayde Earl, father of village Trustee John Earl, noting how the elder Earl had been a town board member, town supervisor, as well as the village Police Justice. Blais also reminisced about community pillar Howard McDonald, and how he regularly brought his dog Betsy to the village board meetings, hiding her under the table during municipal proceedings.
(Continued on Next Page)
Prev Next
Vote on this Story by clicking on the Icon