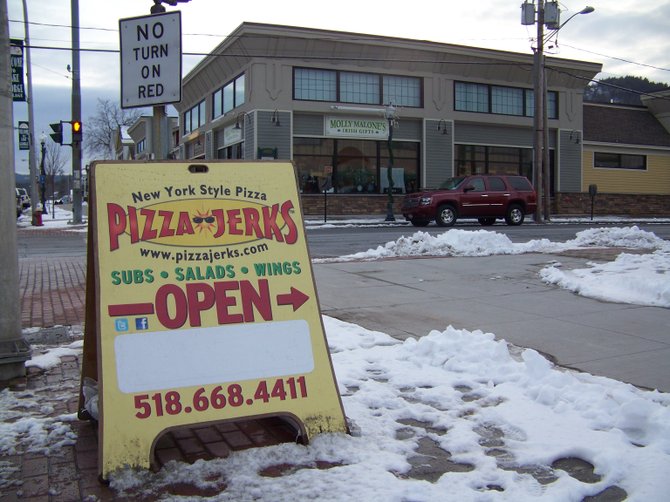 continued — "I'm so pleased I knew all these people personally," Blais said.
In other business, the village board:
•set the 2013 village election for Tuesday March 19. Up for re-election are trustees John Root and Joe Mastrodomenico.
"Our citizens will be very happy to see the old mechanical voting machines back in play," Blais said, noting that state officials approved their use in village elections.
•approved spending $731,000 for improvements to the village sewage pumping station in Shepard Park. The sum includes $72,000 in savings from having village employees conduct much of the work. The village is making every attempt to have the upgrades in place by May 15, a deadline imposed by the state Dept. of Environmental Conservation.
•scheduled a special meeting for 4 to 6 p.m. Jan. 23 for Lisa Nagle of Elan Planning to present recommended zoning changes, including liberalizing building height restrictions, to the board and public.
•heard a report from Mayor Blais that the Charles Wood Park project is about $300,000 short of the money needed to fully develop the features of the festival space and its surroundings. He announced that the Charles Wood Foundation has pledged a $150,000 matching grant, and the village would be seeking corporate sponsors as well as seeking individual donations from the public to raise the matching $150,000. Blais said that if a corporate sponsor sought to have the park's water feature or playground named in their honor, they could donate an appropriate sum to make it happen.
• rescinded a resolution to raise fees charged to septic haulers when they dump a truckload of sewage at the sewer treatment plant. The board decided to reconsider fee increases after improvements at the plant were completed.
• heard from Mayor Blais that the village code enforcement officer had issued warning letters to 11 property owners for various violations of town code. He said the properties owners were given until May to take necessary actions to correct problems, whether it meant repairs and upgrades to their structures, removing debris or hauling away junk cars.
• gave permission to Americade motorcycle Rally organizers to set up their Tour Expo trade show in the Beach Road parking lot from June 4 to June 8, and approved the Lake George Community Band Festival to be held July 19 and 20 in Shepard Park.
Vote on this Story by clicking on the Icon