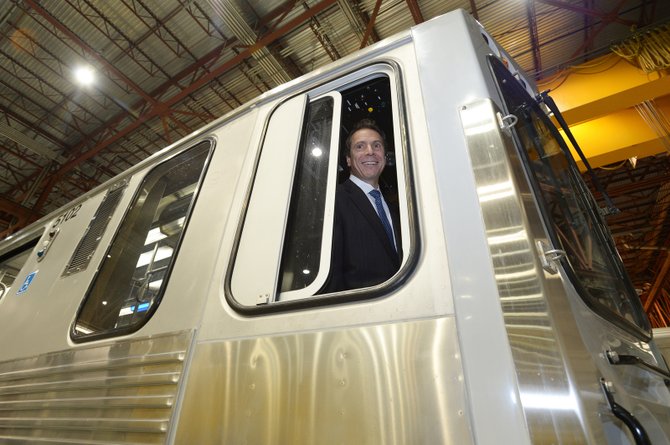 continued — · Builds on the significant mandate relief enacted in 2012-13 by providing a Stable Rate Pension Contribution Option to allow local governments and school districts to immediately realize Tier VI savings.
· Raises the minimum wage from $7.25/hour to $8.75/hour.
The Executive Budget includes:
· All Funds spending of $136.5 billion in the fiscal year that begins April 1, 2013, an increase of $2.5 billion or 1.9% from 2012-13. All Funds include federal funds.
· State Operating Funds spending of $90.8 billion, an increase of $1.4 billion, or 1.6 percent. State Operating Funds exclude federal funds and long-term capital spending.
A Continued Commitment to Fiscal Responsibility
Governor Cuomo's Executive Budget eliminates a budget gap of $1.3 billion in 2013-14 and further lowers the budget gaps projected in future years.
· State Spending Growth Held Under 2% For Third Consecutive Year: The Executive Budget holds annual spending growth in State Operating Funds to 1.6 percent. All Funds spending increases by 1.9 percent from the level estimated for 2012-13.
· No New Taxes or Fees: For the third consecutive year, the Executive Budget closes the budget gap with no new taxes or fees.
· $974 Million in Savings from Government Redesigns and Cost Control Efforts: As a result of initiatives spearheaded by the Governor since he took office to streamline state agency operations, government is doing more with less. The state's 2013-14 fiscal plan takes into account $974 million in savings from state agency redesign and cost-control efforts.
Economic Development
With state finances steadied, New York has the means to target new spending to grow the economy and create jobs and train students for the demands of the 21st Century workforce. The 2013-14 Executive Budget continues to invest in rebuilding New York's economy by funding new initiatives and targeting spending to focus on accelerating the commercialization of new technology to create new businesses, providing additional resources for regional economic strategies guided by the Regional Economic Development Councils, and marketing the state's tourism assets to bolster economic growth, especially Upstate. Major initiatives include:
Vote on this Story by clicking on the Icon