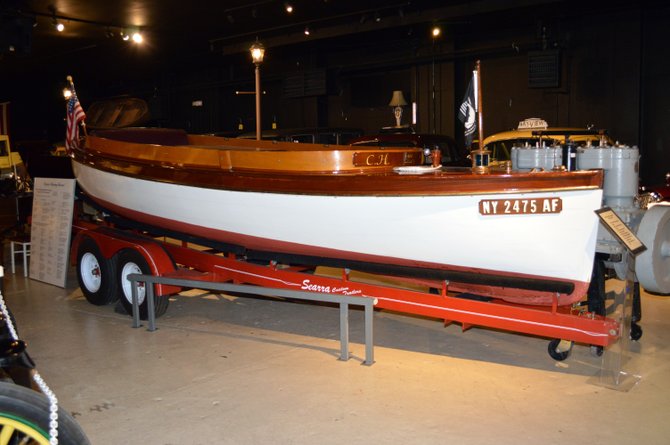 continued — Dick Soper, docent and exhibit manager, said the Lozier company had a factory on Cumberland Ave where Georgia Pacific currently operates. He said the transportation company closed its doors in Plattsburgh in 1915.
Soper said the museum already has two Lozier cars made in 1914 and 1915, a Lozier Boat that was made in Plattsburgh in 1900 and three bikes made in 1878, 1885 and 1890.
"The Lozier company started with bikes built in Cleveland, Ohio, factory and they came here to build their boats and from there went on to make cars at another factory," Soper said.
The museum hopes to recreate what the Lozier factory would look like and construct a showroom for the artifacts like people would have seen when the items were for sale in Plattsburgh.
The money raised will also help the museum continue their Kids Station activities done at the library.
"Right now we hold our kids event's at the Plattsburgh Library and have craft time and other things for kids to do for free," LaFountain said. "Next year we hope to convert another building we have into a hands on exhibits and learning station for kids."
The museum is currently closed but will open again for its 2013 season in the last week of April.
PACKAGE PRICES 
Wine Dinner tickets are $75 per person and cover food, wine, tax, tip, and a $35 donation to the Champlain Valley Transportation Museum and Kids' Station.
Ticket packages are available at a discounted rate of $90 for both a Grand Tasting Ticket and a Wine Dinner Ticket. The Plattsburgh Comfort Inn and Suites is offering a discount on standard hotel rooms for those who purchase both Grand Tasting and Wine Dinner Tickets. Rooms may be reserved at a rate of $99 for the night.
Information, directions, and tickets are available online at cvwinefestival.com. Tickets may also be purchased by calling the museum at 566-7575 or at the Comfort Inn and Suites.
Vote on this Story by clicking on the Icon