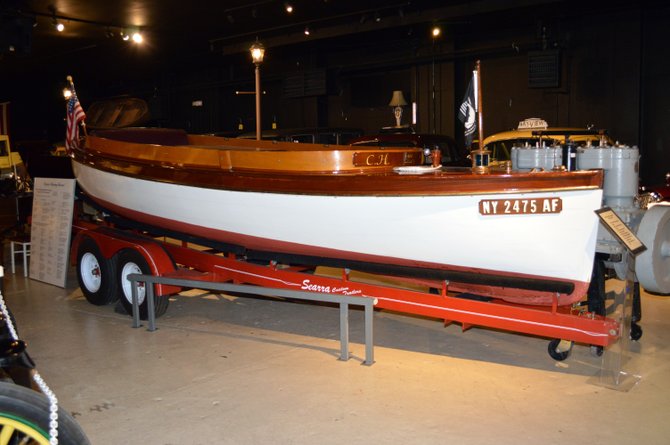 Plattsburgh — Regional wine makers will be bringing their finest vino to the fourth annual Winter Wine Fest to raise money for a new exhibit at a local museum.
On Jan. 26, the Champlain Valley Transportation Museum will host its fourth annual Champlain Valley Winter Wine Festival showcasing the region's unique specialty wines and food.
All proceeds from the event will go to the museum to help build a Lozier Gallery and Kids Station, an interactive area built for children to touch, climb and interact with the exhibits.
The two-day event will begin with a grand tasting and silent auction at Legends Bistro and Comfort Inn on Route 3 from 4 to 7 p.m.
"It will be a chance to see what local products are out there," said Lisa LaFountain, director of fundraising and membership at the museum. "People will get the chance to talk to the different people who make the products and meet the people who enjoy them."

Local wineries to participate include: Amazing Grace Vineyard and Winery; Stonehouse Vineyard; Vesco Ridge Vineyard, and regional products will be presented by Liquor and Wine Warehouse; McCadam and Cabot Cheese; Jeezum Crow Beef products from D & D Meats; Homestead Maple; Gonyo Farms Jams and Jellies, and Batters Up Bakeshop, and others.
Guests will also enjoy a silent auction and live music by pianist Emily Carlin.
A dinner will follow the tasting at 7 p.m. with an exclusive three-course dinner at Legends.
"Each course will be matched with specifically paired wine that compliment each other," LaFountain said.
LOZIER EXHIBIT
Last year LaFountain said the event raised about $5,000. The money helped convert the museum's lighting to LED that has saved the museum money and complimented the exhibits well.
The money raised at this year's event will help the museum develop a special museum dedicated to Lozier transportation creations.
(Continued on Next Page)
Prev Next
Vote on this Story by clicking on the Icon