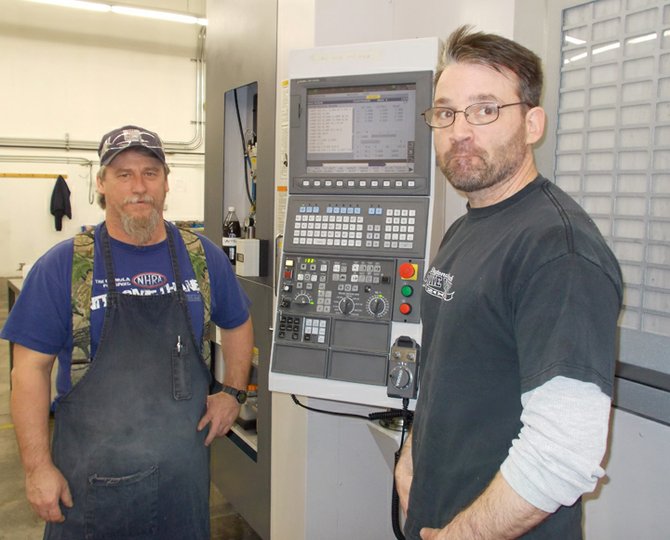 continued — Pre-Tech is part of an aerospace industry where components are made at plants around country, shipped and assembled elsewhere.
"We never do the full assembly of a part," Kahler explained. "We make components for parts. Other plants make other components. Someone else puts them together. There are security and safety issues. If something were to happen at one plant it wouldn't affect the entire industry."
One thing is obvious. The Mineville plant is high-tech and its employees are skilled. In the past year it added a $500,000 horizontal mill. That mill replaced four older pieces of equipment and allows Pre-Tech to make the latest in aerospace components.
"I'll admit, I was pretty nervous the first time I had to use it," said Jim Martin, the primary operator of the new mill. "It's like anything, though. You learn and it becomes pretty routine."
While high-tech machines make the components at Pre-Tech, workers constantly monitor them for quality control. Adjustments are made throughout each process.
"Most people believe technology has made machining easier," said Kahler, who has been with Pre-Tech since it opened the Mineville shop. "It's made it faster, but I think the manual machines were much easier to use. The new machines need to be constantly adjusted. You need to be alert every second."
"You really need mechanical and mathematical skills," said Martin, pointing to his machine's monitor. "All you see there are numbers. You have to be able to work with numbers."
Kahler agreed.
"If you can't use sine, cosine and tangent you can't work here," he said. "We use trig (trigonometry) every day. Math skills are key."
But while math and mechanical skills are required, only one of Pre-Tech's 22 Mineville workers has a college degree.
"High schools do a good job teaching the skills we need," Kahler said. "Students just have to learn them.
Vote on this Story by clicking on the Icon