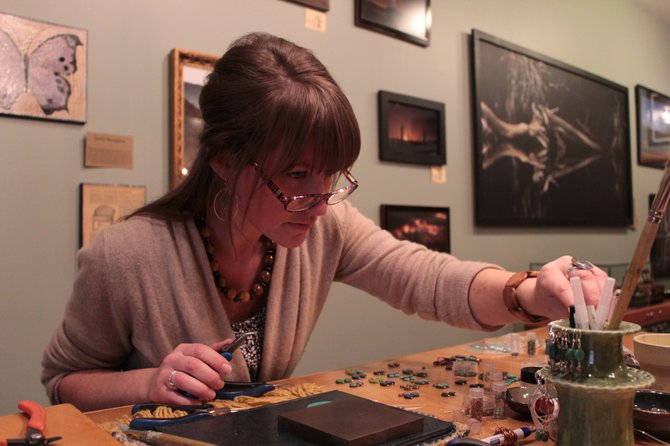 continued — "Everything I do has to be inspired by nature, because that's all I know," King said. "It's the purest form of expression to me because that's what nature is—the purest form of energy."
For Ondak, the decision was an easy one, too.
"She (King) called me and asked if I wanted to get a store, and I said, 'let me go check for open space,'" Ondak said. "Three-and-a-half weeks later we signed a deal."
Acquiring the space was like a homecoming for Ondak, who used to work at the frame shop that was located across the hall from where Soul Roots Studio now resides.
The studio's grand opening was on Thursday, Nov. 8, and featured live music by Adirondack favorites Big Slyde.
The studio now contains a variety of Adirondacks-inspired artwork representing an array of mediums and styles.
The wall space is shared by paintings and nature photography—images of starry nights, out-of-the-way views and winter mountainscapes.
There are also sculptures made from rocks pulled from Adirondack rivers; journals with hand carved, wooden covers; home furnishings that look as if they should still sport leaves and roots; and hand painted mugs and plates.
King's jewelry isn't the only art that can be worn, either.
One display case houses silver rings and necklaces while another holds leather wrapped pendants.
Soul Roots also offers custom framing and printing.
But Ondak said Soul Roots is more than just a shop, it's a place to bring local artists together.
"There's a huge artist community here," Ondak said. "This gallery is a reflection of where they are. It's a balance between rustic, traditional and modern art."
Ondak and King encourage other local artists to contact them, as they are always looking for more Adirondack-styled pieces to add to the studio space.
And even though they might not accept everything for display in Soul Roots Studio, they will still allow artists to have a place on their website, which they plan to have finished soon.
Vote on this Story by clicking on the Icon