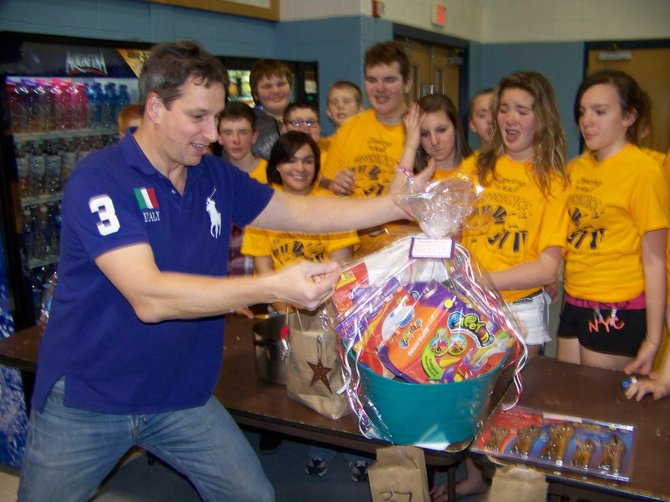 During the event, the students played musical chairs, engaged in various contests including air drumming and lip synching, Pratt said.
"The students were a lot of fun and so respectful," he said. "It was refreshing."
Teenager Riley Fisk said the event was not only fun, but it offered timely rewards for community members facing hardship.
"The Marathon was held for a good cause," she said. "A lot of people need help right now with the economy as bad as it is."
Her friend, Shelby Brainard offered a similar view.
"We all had a good time while helping others," she said.
The event was open to parents and the public from noon to 8 p.m., during which bids were placed in silent auctions for goods and services donated by area businesses and individuals.
The various gift baskets prompted robustbidding. Among items donated were a bird house and bird feed donated by the WCS second grade teachers, a basket of maple products from Mike Hill of Thurman, and a Burgher spectator chair, branded sweatshirt, umbrella and cap, all donated by the WCS Football Booster Club.
Warrensburg High School Principal Doug Duell said the generosity of the people in the region was "phenomenal." He characterized the event as a success.
"The Dance Marathon offers a great opportunity for the kids to do something meaningful for others," he said. "Not everybody's here tonight, but those who are here are having a great time while doing something important for others in the area communities.
Vote on this Story by clicking on the Icon