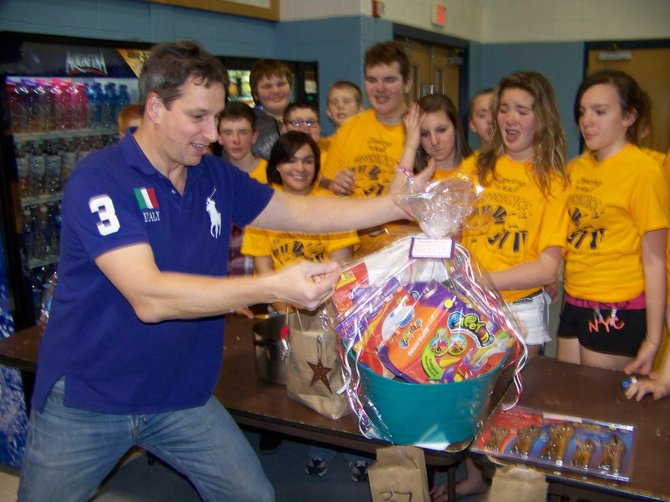 With towering speakers pumping out a steady beat, dozens of Warrensburg Central School students gyrated to the rythym reflected in multi-colored lights flashing through the darkness of the school gymnasium Saturday Jan. 12.
The students in the gym had earned the right to be participating in the annual Warrensburg Marathon Dance by raising $50 or so each for charity.
Seventh grader John Kelly offered his thoughts about the 12-hour dance, due to conclude at midnight.
"It's fun and it's loud," he said, after watching friends cavort on the dance floor, accomplish a stunt with a hula hoop or participate in games led by deejay Andy Pratt of Bolton.
"It's wild," classmate Garry Ross agreed. "It's fun to hang out with a bunch of your friends, and it's cool to be raising money for charity."
John Kelly echoed the point.
"It's fun to help people in need — it feels good," he added.
The several dozen students, with the help of many generous individuals and businesses in the area, raised nearly $7,000 for charitable causes through the Dance Marathon.
Event advisor Marlene DeLongis said Tuesday that the Dance Marathon, over its three years of existence, had raised a total of $23,000 for local people and families facing various needs.
"The kids did a great job of raising money, and we had a great group of parents and school staff who annually show up to make this happen," she said.
DeLongis said that a group of students helping organize the event would be talking this week with advisors about how to allowcate the proceeds. Among the charities they've alredy talked about are Operation Santa Claus, North Country Ministry, High Peaks Hospice, and the Ben Osborn Memorial Fund, she said.
"All are great causes," she said. "The heart of the Marathon is to give back to people in need in the local community."
(Continued on Next Page)
Prev Next
Vote on this Story by clicking on the Icon