Ticonderoga — Wayne Taylor doesn't like to gamble, but the Ticonderoga councilman and the entire town are taking a chance.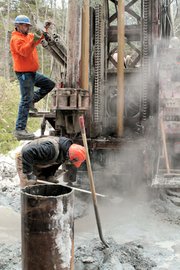 The town has started its first test well, at a cost of $25,000, trying to find a water source as part of a $13.8 million water system improvement project.
"I'm optimistic," Taylor of the test well's success, "but I'm also scared to death."
Facing a federal mandate to either cover its existing water sources or use groundwater, the town of Ticonderoga has started a comprehensive water system upgrade. Town officials hope to replace the existing water system, which draws water from Lake George and Gooseneck Pond, with groundwater drawn from a series of wells.
The first step is to find adequate groundwater for the project. The initial test well is located off Hall Road in Chilson.
"We're looking for a high-yield source," said Tracy Smith, Ticonderoga's water and waste water superintendent. "We need at least 100 gallons a minute, 145,000 gallons a day, hopefully more."
Plans call for at least two wells, one in the Chilson area to service the Chilson and Eagle Lake area and another in the Street Road area. All wells will service Ti's hamlet area.
The Chilson test well is the first. It reached 480 feet deep Jan. 11 without success, but Porter Moore is confident adequate water will be found at the site. Moore is a technician with Hydro-Soure, the New Hampshire-based hydrogeology company Ticonderoga hired to locate ground water.
The well is being drilled by Well Drilling Solutions of Chestertown.
"The hydrogeologist has identified a fissure in the bedrock here," Smith said. "They're confident we'll find water."
The state Department of Health has ordered Ticonderoga to either replace Gooseneck or cover it. Replacement is the cheaper alternative, Taylor and Smith explained.
"I have people tell me we should just ignore the mandate," Taylor said. "We can't do that. First, it's a violation of law. Second, we would face fines of $37,000 a day."
(Continued on Next Page)
Prev Next
Vote on this Story by clicking on the Icon