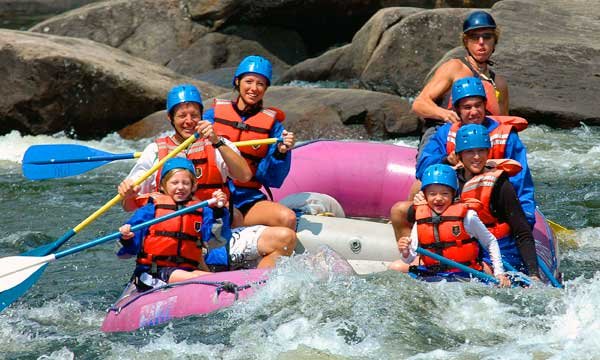 ALBANY — ALBANY — Gov. Andrew Cuomo Wednesday, Jan. 9 proposed launching the Adirondack Challenge, a national whitewater rafting competition in the North Country, during his annual State of the State address.
But will it be held in the whitewater capital of the Adirondacks — the stretch of Indian River and the Hudson River between Indian Lake and North Creek? Nobody's talking yet.
It is not clear where in the North Country the Adirondack Challenge would be held; however, there is a possibility that it could be held on the Hudson River around North Creek. Several calls to the governor's press office were not returned.
Yet, Cuomo and friends did take a whitewater rafting trip down the Hudson River with the Wevertown-based Beaver Brook Outfitters in 2012.
"As we were guiding Governor Cuomo down the Hudson this past fall, there was much discussion about the rafting challenge and other ways to bring more tourism to our area," wrote Beaver Brook Outfitters' Bone Basye in an email. "This is a great and positive thing for all of us."
Beaver Brook Outfitters owner Pete Burns said he, Bayse and three other licensed guides took Cuomo, his friends and a security detail down the Indian and Hudson Rivers for an overnight trip on Sept. 8-9, 2012 using three rafts for passengers and two for equipment. Burns said he'd like to see the Adirondack Challenge in his neck of the woods.
"Bring it on," Burns said.
Gore Mountain Chamber of Commerce Executive Director Pat Hamilton had not heard about the Adirondack Challenge, but she said North Creek would welcome the new event.
"We're all hoping that it's here," Hamilton said. "We think it's the logical choice. We know he came up last year, and I think he had an enjoyable trip from what Pete said. And so maybe that's what prompted him to think about this type of an event is that he had such an enjoyable trip."
(Continued on Next Page)
Prev Next
Vote on this Story by clicking on the Icon