Ticonderoga — What are the most important places in the community?
That was the question posed to St. Mary's School, Ticonderoga, first grade students recently as part of a social studies project.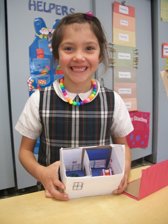 "We have been studying communities, what it means to be part of a community," teacher Rachel Zauner explained. "Each student was asked to choose a place with special meaning to them and build a model of it."
Students completed the task entirely at home with the help of family members.
"I wanted it to be a family project," Zauner said. "We had brothers, sisters, moms, dads, grandmothers, grandfathers all help. We discussed each place and what it means in school, but the construction was a family project."
Students built 14 models representing area places. They are now on display at the Ticonderoga Area Chamber of Commerce office on Montcalm Street.
"They're wonderful," Matt Courtright, chamber executive director, said of the models. "It's obvious a lot of work and thought went into them."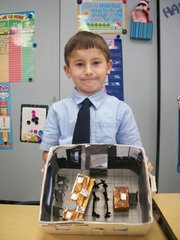 The students in the class hail from Ticonderoga, Crown Point, Moriah, Putnam and Dresden.
"We had a lot of different communities to talk about," Zauner said. "It really worked out well."
Landen Smith made a model of the Dunkin' Donuts building.
"It's my favorite place to go," he said. "I love it there. I eat donuts."
Collin Lauzon constructed the Hot Biscuit Diner.
"My dad takes me there a lot," he said.
Stevie Sprouse made the Mineville-Witherbee fire house.
"I like it there," she said. "On special days they have a contest to eat hot dogs."
Billy Hurlburt's model represents McDonalds.
"I love it there," he said. "I love the French fries and hash browns."
Robert O'Neil constructed the Ticonderoga International Paper Co. mill.
"My dad works there," he said. "Sometimes I visit him there."
Garrett Beebe made the Ticonderoga Federal Credit Union's Ti branch.
(Continued on Next Page)
Prev Next
Vote on this Story by clicking on the Icon