continued — Douglas was nominated for the position of chairman by Wilmington Supervisor Randy Preston.
"He took a hold of the reigns during this economic downturn and there could not have been a more challenging time, especially during this past year," Preston said.
Preston added that Douglas was key in providing state relief and attention to the North Country.
"Because of his efforts, if there is so much as a leaf blowing in the Essex County parking lot, Gov. Cuomo comes to the county to make sure we have everything we need," Preston said. "That is the kind of clout Mr. Douglas has."
His nomination was seconded by Politi.
"Few have demonstrated the passion and dedication that he has," Politi said. "He has earned our respect."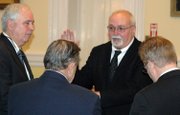 Moriah Supervisor Tom Scozzafava introduced the nomination of Ferebee as vice chair.
"He has proven his commitment not only to his town but also to the residents of Essex County," Scozzafava said. "He can share a difference of opinion with his colleagues and respectfully agree to disagree."
The nomination was seconded by Lewis Supervisor David Blades.
"I believe that Mr. Ferebee's leadership along with Mr. Douglas' leadership will take the 214th Board of Supervisors to a mush better location," he said.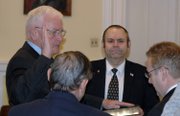 Also sworn in during the organizational meeting was St. Armand Supervisor Charles Whitson Jr., who was appointed by the municipality to fill the unexpired term of the late Joyce Morency. He was joined by new clerk to the board Judith Garrison and assistant clerk Dina Garvey.
Douglas took a moment to thank retired clerk Deborah Palmer.
"Deb was there day in and day out to help me," he said.
During the meeting, the board also changed the date of their next full board meeting from Monday, Feb. 4, to Thursday, Feb. 7, to avoid conflict with the Association of Counties meeting.
Vote on this Story by clicking on the Icon