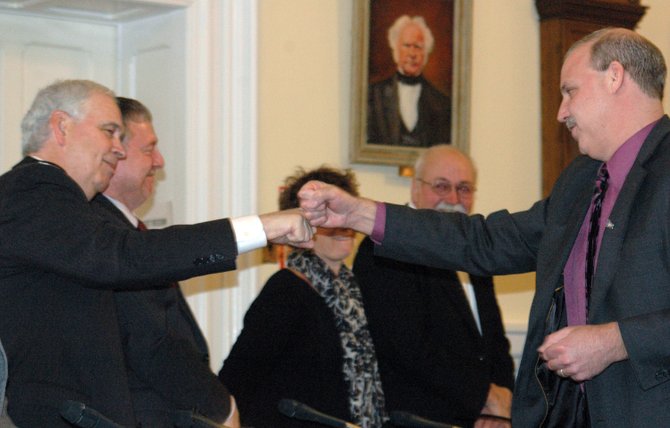 Elizabethtown — Saying that it was a challenge, "that I must do," Randy Douglas again took the gavel to preside over the Essex County Board of Supervisors for an unprecedented fourth term.
"These times we have faced over the last three years have been very difficult," Douglas said during the 214th Organizational Meeting of the board Jan. 7.
As reported, Douglas was joined by Keene Supervisor Bill Ferebee, who was sworn in as the vice chairman of the board, replacing North Elba Supervisor Roby Politi.
"Your leadership, wisdom and most of all, your friendship, have been appreciated over the past three years," Douglas said of Politi. "I am happy to have my good friend Bill Ferebee join me as vice chair. He has shown his leadership with his dedication to lead his town out of Irene."
Douglas set forth his priorities for the new year, focusing on finances.
"We are now forced with the heavy burden of funding a tax levy and tax rate that our constituents can live with," Douglas said. "We need to quit the blame game and saying that it was someone else that put us here. I believe that we must scrutinize every tax dollar that we spend, including our contract agencies. We need to push the state to give us the home rule to allow us to work with our sales tax and occupancy tax."
Douglas said that he plans to visit each department personally in 2013 and assign a supervisor to be as personal liaison to each one.
Douglas concluded by saying that he wanted to do a better job communicating to constituents.
"We must do a better job in public perception," Douglas said. "We do so many things well to assist our people, and they need to know about that. However, one bad item is what they will focus on."
(Continued on Next Page)
Prev Next
Vote on this Story by clicking on the Icon