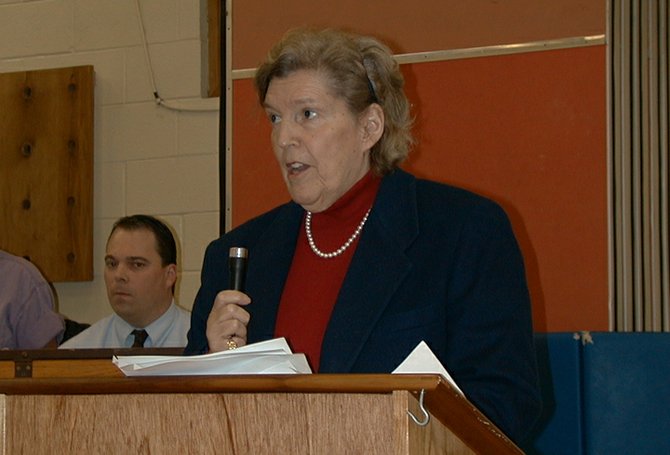 Ticonderoga — A dream come true became a nightmare for a New York couple, who were at the center of one of America's greatest tragedies.
Virginia LaPointe, Ticonderoga Historical Society board trustee, will present "The Haunted Major" at the Hancock House on Friday, Jan. 18, at 7 p.m.

"Mrs. LaPointe's program is a fascinating story of the life of Maj. Henry Rathbone," noted Charlene Dreimiller, a Ticonderoga Historical Society trustee. "This event is free to the public and light refreshments will be served."
Henry Reed Rathbone was born 1837 in Albany, the son of Jared Rathbone, Albany Mayor and wealthy businessman, and Pauline Penny.

"Maj. Henry Rathbone's story is an amazing one of struggle and tragedy," Dreimiller said. "Many people aren't aware that Henry and his fiancée Clara Harris, the daughter of New York State Sen. Ira T. Harris, were the guests of President and Mrs. Lincoln in their private state box at the Ford Theater at the play 'Our American Cousin' that fateful night of April 14, 1865. Even though the invitation was at the last minute due to the declination by General and Mrs. Ulysses S. Grant, how excited the young couple must have been to be seen in the company of the President and First Lady! But it was an exhilaration that would end so unexpectedly.

"Mrs. LaPointe's program follows the difficult life of this couple and the impact the assassination had on their lives," Dreimiller said. "It is a program of many emotions, from sadness to illness to death, and will certainly keep you spellbound for the entire evening."
The Hancock House, home of the Ticonderoga Historical Society, is a Georgian mansion, a gift of philanthropist Horace Moses, and houses a significant collection of regional material in its archives, along with a research and genealogical library. The society is open all year and houses a gift shop full of books and area memorabilia.
"This free program promises to be an extremely interesting event you won't want to miss," Dreimiller said. "We hope you will join us for the entertainment and a chance to talk with friends over refreshments."
For more information contact the Ticonderoga Historical Society, 6 Moses Circle, Ticonderoga, or phone 585-7868 or email tihistory@verizon.net.
Vote on this Story by clicking on the Icon