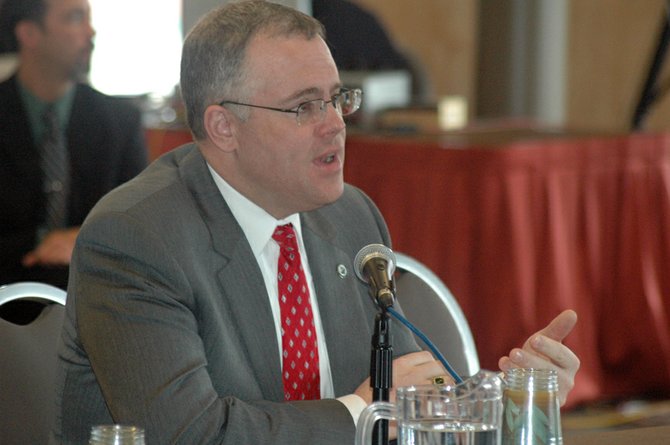 QUEENSBURY — As new 114th District Assemblyman Dan Stec visited several counties this week to witness their annual reorganizational ceremonies, he identified his initial legislative priorities.
While the state leaders will be grappling with whether to allow casinos, raising the minimum wage and gun control as top issues, Stec said he will be advocating other objectives that reflect the needs of his constituents in the southern Adirondacks.
"We really need to make the economy and the job market the number one priority," he said. "So many other things stem from the business climate and the state of the economy."
Stec said that in this vein he will be lobbying to curb laws that entangle businesses and raise their costs and unnecessarily burden their operations.
"We'll be looking to reduce regulations that hinder businesses," he said.
Also a top priority, he said, will be reducing the tax burden in New York State which is nothing less than legendary.
"We have to work on reducing the cost of state government, and that includes entitlements and other things that drive the cost of living in our state through the roof," he said.
This past week, Stec visited the reorganizational meetings of Essex County, Washington County, and his home turf of Warren County.
"I'm trying to continue to be as visible as possible in the 114th District and listen to my constituents' concerns," he said.
Stec's influence in Albany will likely be bolstered by his appointment to several high-profile committees. Area political observers have been pleased that he received the appointments to influential posts despite being a Freshman state Assembly representative.
Stec has been named to the Environmental, Tourism, Social Services, Banking, and Local Government committees.
He said that serving on the Environmental Conservation Committee would be particularly important, as that panel makes some vital decisions which effect residents of the southern Adirondacks.
(Continued on Next Page)
Prev Next
Vote on this Story by clicking on the Icon