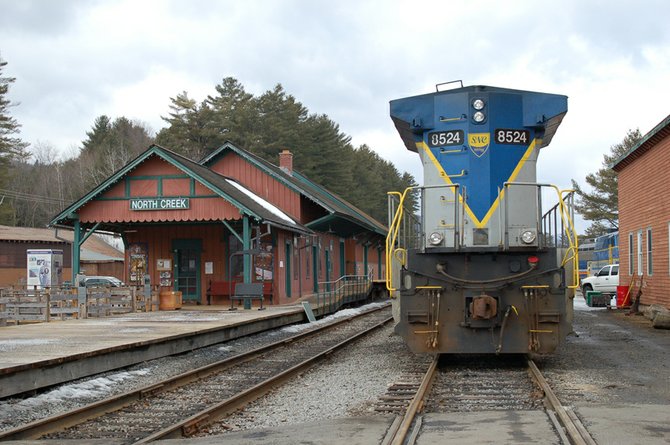 continued — "If people don't go through the chamber or they don't go through some regional entity, we don't know about it and so we can't put it on the First Wilderness Corridor site, and we can't work with them to help promote it," LaMothe said. "Cross promotion is the way we're going to survive here."
20 years of planning
Countless hours of planning and millions of taxpayer dollars have gone into revitalizing the First Wilderness Heritage Corridor. And it's been 20 years in the making.
"The genesis of all this started in 1992 with the North Creek Action Plan," LaMothe said. "And from that, a vision came out of North Creek. And in that action plan was one line that said, 'If the rail line ever becomes available, the town or county should consider purchasing it.' That one statement, in a plan that was adopted by the community, is what Congressman Jerry Solomon used to get the money for the acquisition and the initial rehab of the line."
The Johnsburg Town Board adopted the North Creek plan in 1993, when the Canadian Pacific (CP) Railway still owned the old Delaware & Hudson Railway. That was the same year CP deeded the North Creek train station to the North Creek Railway Depot Preservation Association.
In 1995, Warren County purchased the 40-mile right-of-way for the former Adirondack Branch of the D&H, extending from the town of Corinth in Saratoga County to North Creek.
In 1997, LaMothe was at a national planning conference in Seattle where they talked about the National Heritage Rivers Program.
"And we said that's a concept that we can fit here, with the unifying characteristic of the river and the rail line that links all the communities together," LaMothe said.
Out of that, Warren County had a consultant help with a planning study for the First Wilderness Heritage Corridor. And since 1999, the county has received a lot of money from the Department of State to further the revitalization activity and infrastructure development.
"That little North Creek Action Plan has grown," LaMothe said. "It was a good investment."
In 2011, the Saratoga & North Creek Railway signed a lease agreement with Warren County for the right-of-way in the corridor and now offers passenger service from Saratoga Springs to North Creek. In 2013, the company plans to begin freight service along the tracks from the old Tahawus titanium mine in the town of Newcomb and the Barton Garnet Mine in North River.
Vote on this Story by clicking on the Icon