Willsboro — Part of the Essex Highlands will soon be the home to a new set of trails.
Through a conservation easement between landowners Dick and Leanna DeNeale donated to Champlain Area Trails, 319 acres of the highlands, located off of Rte. 22 between the towns of Essex and Willsboro, will be preserved for environmental and agricultural purposes.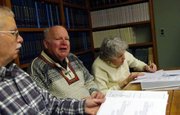 CATS Executive Director Chris Maron said that the property provides several interesting aspects.
"There is a beautiful pine forest that is part of the property, and there is a clay-plane forest, which is very interesting," Maron said. "Clay-plane forests are unusual in the Champlain Valley because most of the clay areas were turned into farmland. The few remaining remnants of these forests are important."
Maron said that he first talked to the DeNeale's about the easement in 2005 when he was with the Nature Conservancy.
"There were not some of the tax incentives that are in place now," Maron said. "I am pleased that we were able to make it happen."
"Years ago, when we bought this property, I wanted to be sure it stayed open and available for farming and that it would always grow crops and not turn into a housing development," Leanna DeNeale said. "We are so happy to work with CATS to fulfill our dream."
Mr. DeNeale said he is pleased CATS would be creating a trail to allow people to enjoy the property.
"I especially love the forest and the little pine grove on the far west side," he said. "We are pleased that a trail will allow others to walk through the woods and see the variety of trees and wildlife."
Maron said that work on the trails will start with planning the routes in January and some field work in the spring in order to have everything finalized for National Trail Day, June 1.
(Continued on Next Page)
Prev Next
Vote on this Story by clicking on the Icon