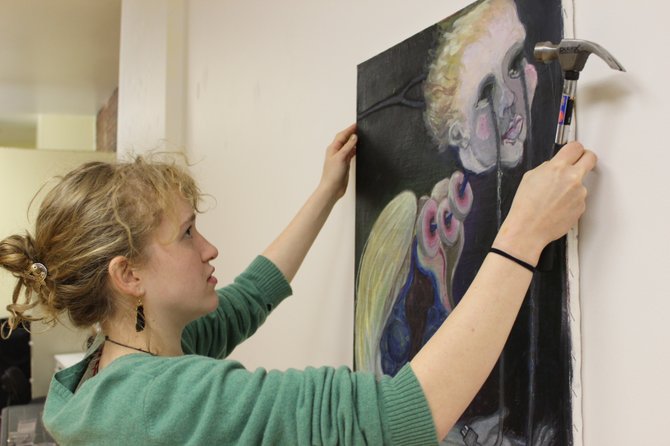 "I explore death a lot because that's part of nature's cycle," Curtis said. "The way things decompose and get turned into other things is intriguing to me. Humans have an aversion to death, but death isn't necessarily bad—it's just a part of life."
Curtis likes to incorporate real objects into her art when she can.
The teeth on "The Horse" were made using a cast of Curtis' own teeth, and there is milkweed fluff imbedded in the polymer discs that hang from the animal's stomach.
She also used real hair—some of her own, some of her mom's, and some from her professor's sister—to create the animal's mane, tail and nostril hair.
And then there is the chandelier, which is comprised of a lamp shade from which fawn bones hang like a mobile for a baby coyote.
"I found those fawn bones in the forest, and I liked their delicacy," Curtis said. "I liked how they were still in the form of an animal."
Curtis admits that some of her themes might seem morbid, but she insists that they really just explore nature as it is, and adds that a lot of her work, like "Boy with the Pearl Earring," which was inspired by Johannes Vermeer's "Girl with the Pearl Earring," is done with good humor in mind.
"A lot of my work is humorous," Curtis said. "I have videos that are just nonsensical and absurd. I think humor is a very important part of the creative process."

Curtis has been making art her entire life, and utilizes several mediums. She is currently finishing a Bachelor in Fine Arts degree in painting and drawing from SUNY New Paltz.
Her work has been shown at the Lake Placid Center for the Arts and at various shows in New Paltz.
Curtis' first solo exhibition, which includes all of the above described pieces, as well as photographs, video, sculptures and oil and acrylic paintings, opened at ROTA Gallery in Plattsburgh on Dec. 30 and runs until Thursday, Jan. 10.
The gallery is open daily from noon-5 p.m., and all of Curtis' work is for sale.
For more information, visit rotagallery.com.
Vote on this Story by clicking on the Icon