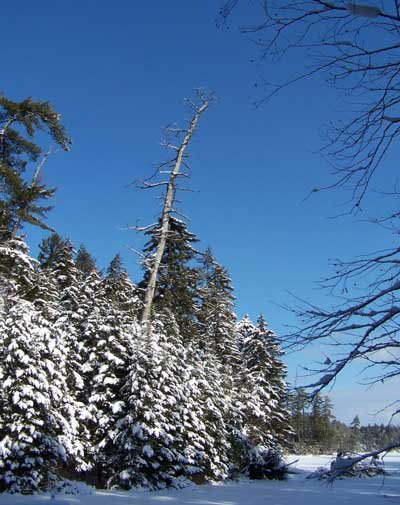 Soon, nothing is left beyond the sad, stark, black, brown and grey skeletons of hardwoods, which hang forlornly from the hillsides as the season finally limps and whimpers to a completion.
Winter is the sole exception to the rule. Despite the fact the season often begins with a series of coughs, spits and sputters like a wheezing, old codger, there is no way to escape the occasion when the cruelest of seasons finally crosses the barren threshold of a landscape that has been nearly stripped of all earthly delights.
Winter stands alone among the seasons with its formidable capacity to instantly transform the landscape. It whitewashes the earth in a process that is always magical to observe, and yet often too brutal to bear.
Unlike all of the other seasons, winter is a period of non-scents, there are no flowers, no smelly bogs, and no perfumed winds. One would expect a bit of vanilla flavor at least!
Indeed, the cross winds of winter appear to white wash of all the earthly flavors from the land. Yet there always remains an undeniable sweetness which extends far beyond the apparent bitterness of the season.
Winter doesn't arrive gradually, as do the other seasons. It simply unfolds all at once, carpeting the earth in soft, gentle monotones of monotony, which serve to highlight the black ribbons of rivers and streams, and the dark, sullen dots of endless lakes and untold ponds.
No, winter doesn't grow anything beyond ice, snow and a whole lot of fun!
Unlike the other seasons, which graciously wait on Earth's front door while graciously waiting for permission to enter, winter tends to barge right in. It is bitter and bold in its disregard for human comfort.
Winter doesn't knock, and it doesn't wait. The season is an impatient traveler and it answers to no one in particular. Before you know it, it spreads a fresh, frosty topping from the valleys to the mountaintops, and all points between.
Joe Hackett is a guide and sportsman residing in Ray Brook. Contact him at brookside18@adelphia.net.
Vote on this Story by clicking on the Icon