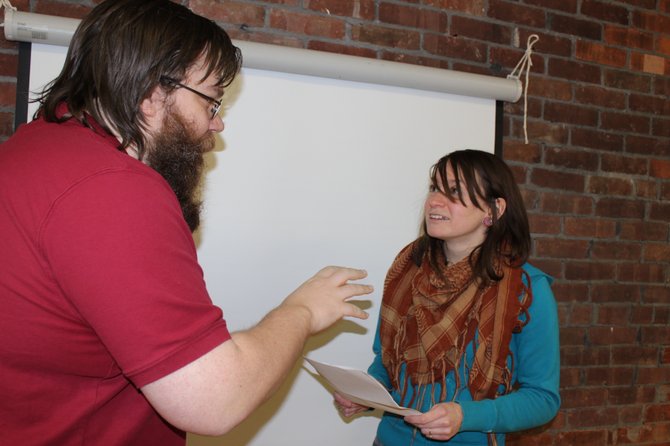 "If mainstream Hollywood is like fast food, Kubrick and Lynch are like gourmet meals," Torrance said. "Sometimes you can be challenged with something you don't like to eat, and then you come to appreciate it. Eventually you discover the richness and nutrition of it and you find yourself drawn to it more than less nourishing fare."
Torrance, who is on the ROTA board of directors, has used ROTA Gallery as a way to make connections, and has met some of his cast at the non-profit art cooperative.
"Two years ago I was thinking of leaving the area because I didn't see much of a future as a writer and an artist here," Torrance said. "This place (ROTA) has been my salvation. Plattsburgh is big enough to have a larger art community, and ROTA is an invaluable venue and community resource."
For his latest project Torrance cast Kaitlyn Donovan, whom he met at ROTA, as Dorothy, a lead character involved in one of the film's several tumultuous relationships.
As a photographer, Donovan is more accustomed to being behind the camera, but she has wanted to act since she was young.
She worked with Torrance on a previous project, and agreed to take on the role without reading the script.
"He's already explained the weird, outlandish parts to me," Donovan said. "I'm preparing mentally for it, and it will be an interesting role to play. I trust Jason. He'll make it work."
Also involved in the film is Corey Bourgeois, who said he sees the project as a way to gain practical experience in filmmaking.
Bourgeois would ultimately like to direct, but in the meantime he is enjoying being involved in any capacity needed to complete the movie.
"I'm just looking for any experience I can get, and this is a good way to do it," Bourgeois said. "If he (Torrance) needs me to run a camera, I'll run a camera, if he needs me to set something up, I'll set something up."
Anyone interested in trying out for the film can attend the open audition at ROTA Gallery on 50 Margaret St. in Plattsburgh on Saturday, Jan. 5 from 1-4 p.m.
Vote on this Story by clicking on the Icon