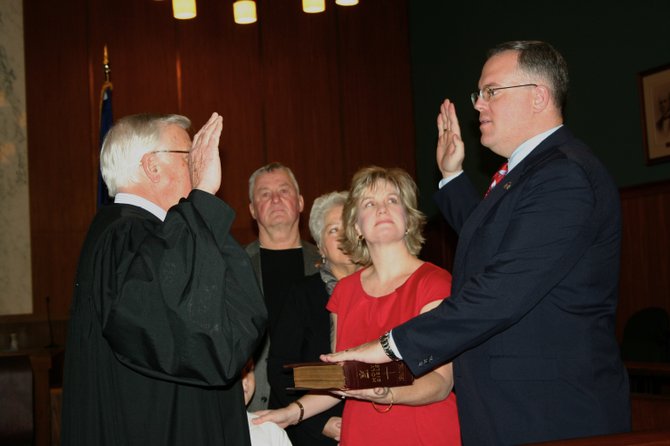 continued — Among the community leaders in the audience was Glens Falls Economic Development Director Ed Bartholomew, who's known Stec for decades. He said that Stec would serve the citizens of the lower Adirondacks quite well.
"Dan will fight unnecessary regulations and mandates, he'll strike a balance between urban and rural concerns, and he'll be able to develop a consensus on issues due to his leadership abilities — and this is particularly important when he's dealing with interests all over the state," Bartholomew said. "He will be a great advocate for the region."
Essex County Sheriff Richard Cutting offered similar thoughts.
"I'm impressed with Dan Stec's dedication and commitment," he said. "He knows the area, the people, and what we need in the Adirondacks — he'll represent us tremendously."
Pondering his new position, Stec said he had not imagined 20 years ago that he'd be a state Assemblyman — but when the position opened up 10 years ago, he decided to seek the post. Although he bowed out of the race in 1992 and supported Teresa Sayward at the time, he has since had his sights set on the position.
Stec's mother, Elsie said that Dan, from an early age, would work hard to accomplish his goals.
"He's always done what he's set out to do," she said, referring not only to his career, but going off to college a year early, or achievements in high school sports — whether it was heaving a shot put for the track team or being an effective team player in football.
Stec's father, George Stec, said Dan would be effective in his new role.
"Dan understands the word 'compromise' in achieving his goals," he said.
Until Tuesday, Dan Stec served as Queensbury supervisor for nine years. He was a town councilman for four years beforehand.
Vote on this Story by clicking on the Icon