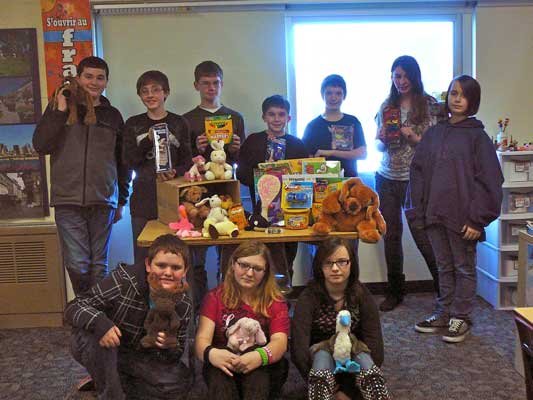 Ticonderoga — The Ticonderoga Middle School students completed several community service during the holiday season.

Every year, the staff provides a party for the students on the day before holiday break. This year, the students paid the good deed forward by completing various community services for the school and community. The student council readied the school for the activities by being part of an assembly before Thanksgiving break to explain what would happen during the next month of school during homebase. The student council also worked by starting one of the projects and delivering all of the materials needed to each homebase during Thanksgiving break.
Each grade of homebase had a different community service project.
The sixth grade students collected toys and other items to donate to Superstorm Sandy victims. The sixth grade donated more than two boxes of items.

The seventh grade students finished 20 tie-fleece blankets that were donated to The Heritage Commons Nursing Home. The student council pinned, cut the ties and then gave the blankets to residents of Heritage Commons Dec. 20. The seventh grade also donated toys and other items to Toys for Kids, an organization that helps local families during the holiday season.
The eighth grade homebases donated wrapping paper and bows to Toys for Kids. Each homebase wrote a collective Thank You letter to the local Elks Lodge and Sons of the American Legion, two organizations that support the middle school community. The eighth grade students also wrote individual thank you notes to any staff member, of Ticonderoga or an old school, who inspired them or helped them in some way throughout the years.

"The students were very successful in completing all community services but more so, the students learned that helping out the community is a great way to bring happiness to others during the holiday season," Principal John Donohue said.
Vote on this Story by clicking on the Icon