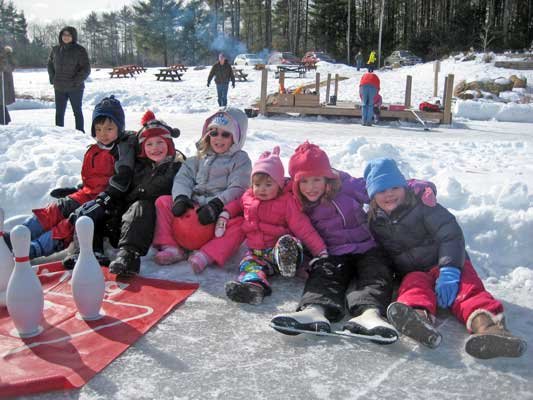 Bring water and wear comfortable clothing and sneakers. People may drop in for $10 per class or purchase a set of five sessions for $40 or 10 for $80. Arrive early the first night to complete necessary paperwork and to make a payment. For details, call 928-3176.
Weight Watchers sessions offered
Bolton Landing residents can now attend Weight Watcher meetings at the Bolton Free Library. The sessions are held at 6 p.m. every Tuesday. U.S. News and World Report, ranked Weight Watchers as the best program for losing weight, for eating healthy and for maintaining a reasonable weight in the long term.
Seniors' events calendar
• Wednesday, Jan. 6 — Senior club business meeting, 10:15 a.m.at the Bolton Senior Center. Lunch follows at the mealsite. Call the kitchen workers at 644-2368 so they can prepare enough food.
• Wednesday, Jan. 13 — Wii bowling, 10 a.m. at Bolton Senior Center. Lunch is to be determined. A volunteer is needed to set up the Wii equipment.
• Wednesday, Jan. 20 — Bingo games, 10:15 a.m. at the Senior Center. Lunch follows featuring submarine sandwiches, which will be arranged by Howard.
• Wednesday, Jan. 27 — Bowling, 10 a.m. at Sparetime Lanes in Lake George. Lunch follows at the Golden Corral in Queensbury. To participate, call Ed Pratt at: 644-9459.
• Reminder — Racino trips are offered on the first Thursday of each month. To join the trip, call Pat Merchant at 644-9359 at least 10 prior.
Winter Break party a success
More than 50 people attended the Bolton Recreation Department's Winter Break Party Saturday, Feb. 16. It was attended by more than 50 people, who enjoyed ice hockey, ice skating, snowshoeing, as well as assembling tasty s'more's and participating in a campfire story session led by Pete Olecheski of Up Yonda Farm.
Ice skating, snowman crafting, ice bowling, and other activities and games were enjoyed by people of all ages. A lunch was also part of the festivities, and area residents offered compliments about the event, which featured plenty of exercise and fun.
Vote on this Story by clicking on the Icon