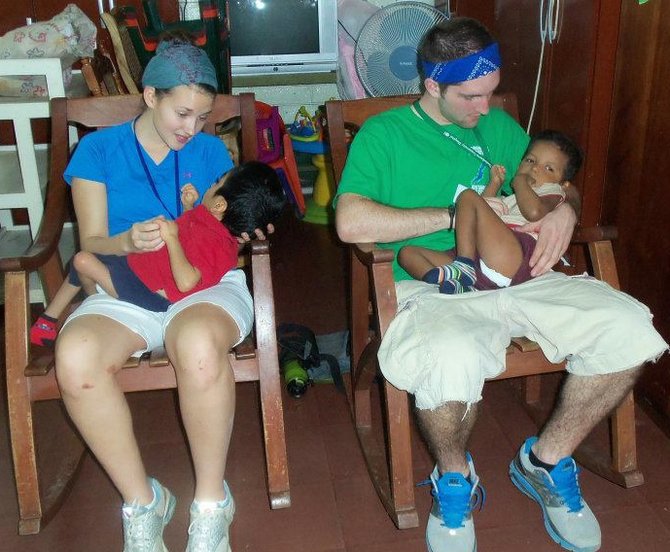 continued — "While we were in Nicaragua, we did a lot," Whitney said. "To start, there was maintenance to be done at the Mission of Hope compound in Chiquilistagua, Nicaragua, such as painting, cleaning, etc. But what is at the heart of the mission is what occurs off compound. One main project the MOH conducts is 'rice and beans' in which groups of missioners go out into the poorest barrios and distribute bags of rice and beans to houses. It isn't much, but it is incredible how long people can make that amount of food last.
"Another is 'home shelter,' where groups of missioners team up with Nicaraguans to build shelters," she continued. "To be honest, the shelter we provide is much smaller than my own bedroom, but when a family receives one, the gratefulness in their eyes becomes understandable when you see what an improvement it is from their prior situation. These shelters are built from corrugated metal and wood."
Mission of Hope also supports a disability center, a children's hospital, medical clinics and a program to enroll students in schools.
"My favorite part was playing with the children from the neighborhood every day in the evening," Whitney said. "I have made so many bonds with so many people from the mission — children, adults and, of course, fellow missioners."
The North Country Mission of Hope is successful, Whitney said, because of the support it receives from Adirondack residents.
"Mission of Hope is so incredibly thankful for the people in the North Country for all of their support," Whitney said. "We realize that, especially in today's economy, there are people who suffer from hunger even here in the United States. However, we are fortunate enough to have numerous programs and organizations that are dedicated to help our people, like the Salvation Army and food pantries.
"In Nicaragua, they rely on people like you and me to help mitigate their hunger, their pain," she added. "It's difficult sometimes to remind ourselves that we don't really need the new iPhone, or that a bad grade on a math test isn't the end of the world. But when we remember what is really important, we can open our hearts with generosity and make an unimaginable difference in the lives of people all around the world."
Vote on this Story by clicking on the Icon